Are you still buying followers or using bots to get followers on Instagram? These tricks might increase your follower count. But the truth is, these practices are both useless and unethical.
That's because the real Instagram followers are real users who care about and engage with your profile and boost it. Therefore, if you want to get followers on Instagram that are indicative of your true following and are valuable for your business, it's best to invest in real people.
If you want a bigger following on Instagram, you need to work for it. I make it quite simple for you. In the following article, I break down the process into three simple steps to get followers on Instagram easily:
1. Optimize your profile & bio
Your Instagram profile is the first thing many people see of you and your brand. This is why it is important to make sure it is as appealing as possible. If you want to grow your Instagram followers organically and get more followers, then you need to optimize your profile.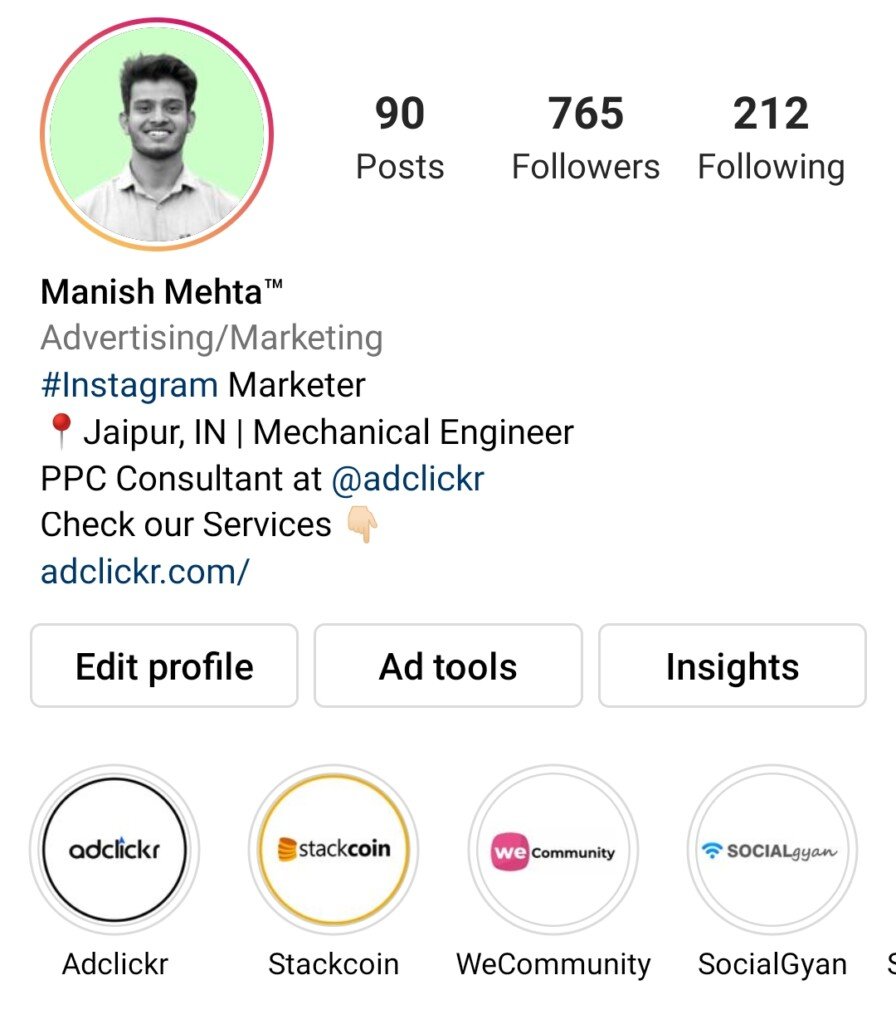 Your Instagram bio is one of the most important section of your profile. It's the first thing people will see, and it'll help them decide if they want to follow you or not. Make it interesting and concise so you can get more followers on Instagram! To optimize your bio for maximum engagement, keep these three things in mind:
A clear, short description of what you do.
A call to action (buy, read more, contact us, etc.)
Add some story highlights about you
Include relvent #hashtag
A Short bio link
2. Optimize your posts & reels
Most social media posts are seen by less than 10% of their followers. This is because the posts are not optimized for reach. Optimizing your Instagram posts is the key to gaining followers. If you want to gain followers on Instagram, you need to post high-quality content and optimize your posts with tags and a good caption.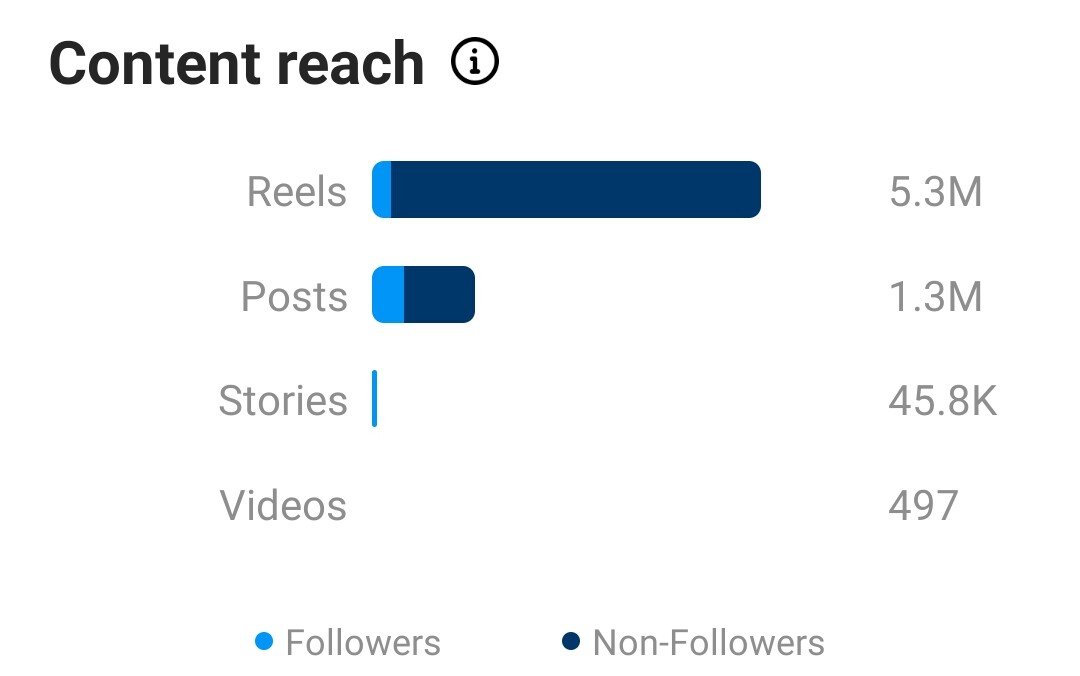 Optimizing reels can boost your engagement rate and followers. Instagram users are more likely to watch a video than reading text. A study found that posts with videos receive 2.5 times as many interactions as those without. You can publish reels more than Instagram posts after optimizing them to get followers on Instagram.
Here are some tips to optimize your Instagram posts and reels:
Create high quailty contents
Follow trending contents formats
Tag your location in the post
Write great captions with relevant & popular hashtags
Tag relevant users & encourage others to tag you
3. Use relevant hashtags
Using hashtags on an Instagram account is a great way to reach new followers. A hashtag can be used for many different purposes, but most commonly it's used to categorize the content of a photo or video. Hashtags are also used to help users find photos and videos using specific keywords, so using appropriate tags will increase the likelihood of their posts being viewed.
But make sure to always use the relevant hashtag in your posts. For example, if you are posting pictures of food, then including #foodporn on your caption or in the picture itself is a good idea. You can also use some generic most popular hashtags in your every post to maximize engagement.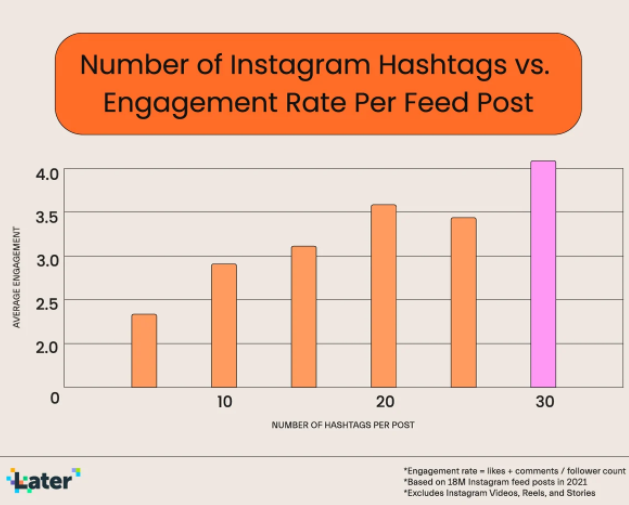 Source: Later
Don't forget to follow these key points to increase more followers using hashtags.
Use 30 hashtags in your post
All hashtags should be relevant to post
Don't put hashtags in comments
Don't put the same hashtags multiple times
Try to hide your hashtags in the caption
4. Post consistently
Posting consistently on Instagram is an essential part of growing your account. One of the most important things to remember when it comes to posting regularly is frequency. The more you post, the better your engagement will be. To post regularly, make sure you are posting at least 1-2 times per week, or 10 times per month (for personal profile).
Posting consistently is a key tactic to grow your brand and business on Instagram. It also makes it easier for them to find you in the app when they are scrolling through their feed or exploring a page. Posting consistently will also create a sense of continuity and trust with your followers.
According to a study, businesses should publish four posts per week, on average.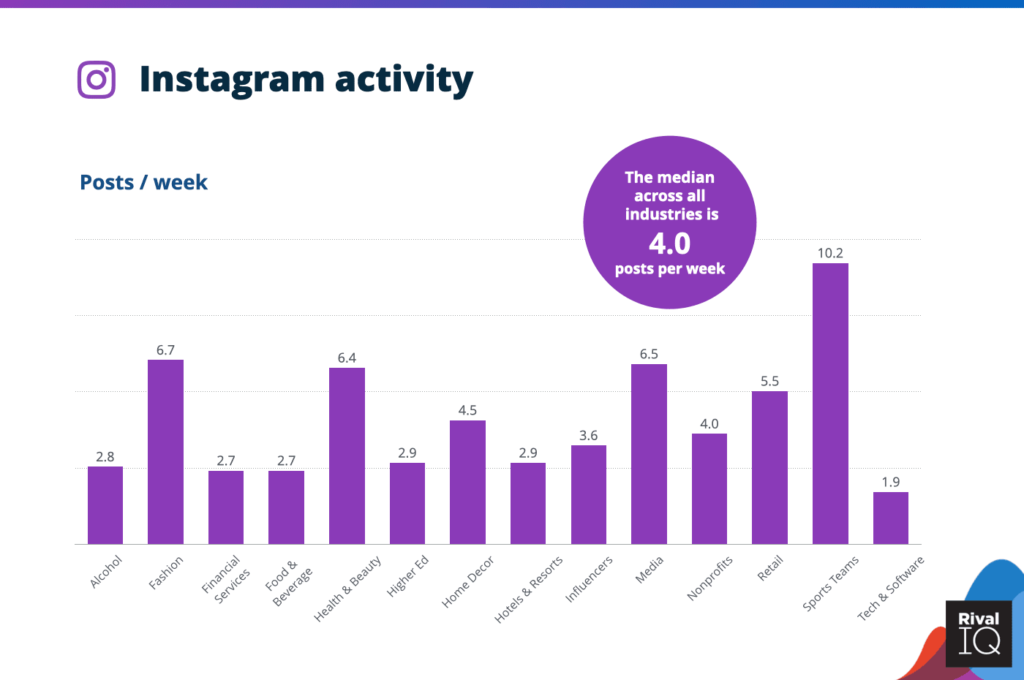 Source: digital information world
5. Find best time to post
One of the most popular questions asked by users is when and what day should they post on Instagram to get the most engagement?
finding the best time to post is one of the most important tasks on Instagram. You want to make sure your posts are seen by as many people as possible and it would be a shame if they missed out on your latest content because they weren't online at the right time. It will help you to get more followers and engagements on Instagram.
First, use Instagram Insights to find out the best time to post, when your audience is online. Go to Insight > Your Audience > See all. From there, scroll to the bottom to find your audience's most active times.
Check status brew report on the best time to post on Instagram globally.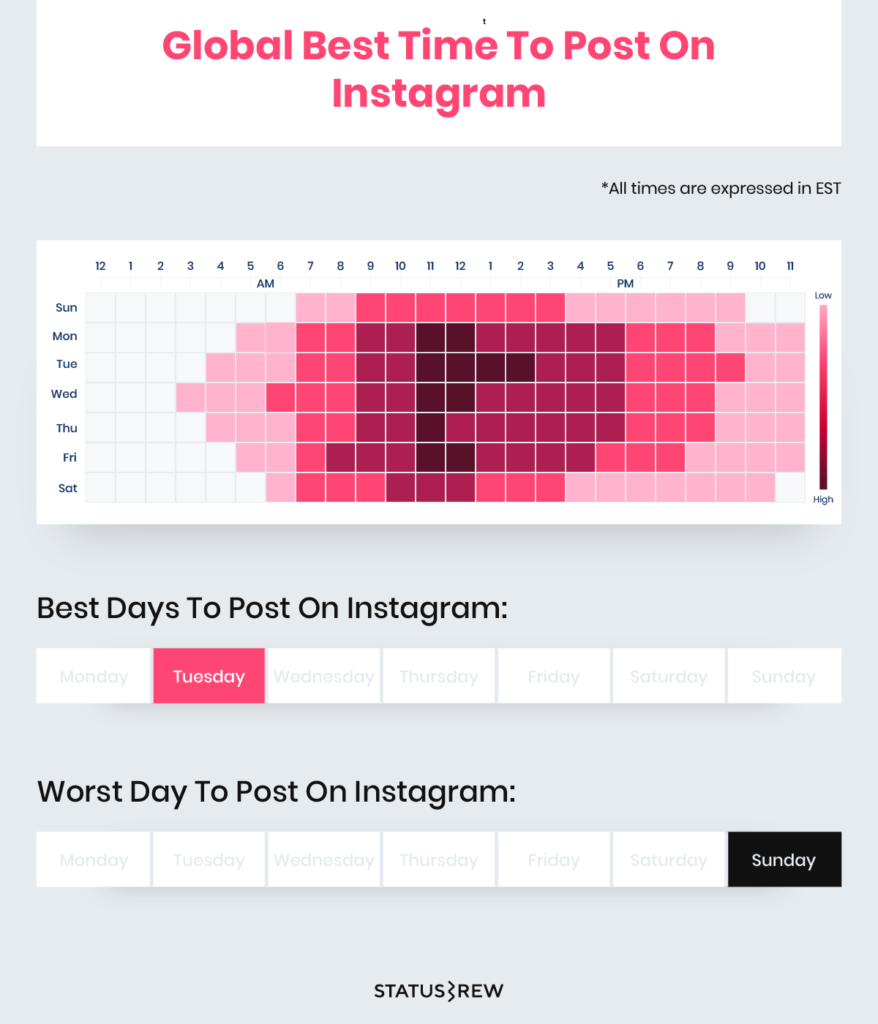 Source: Statusbrew
6. Create unique content
In this day and age, the number of followers on your Instagram profile is a measure of your popularity. However, it can be difficult to get followers without being a famous celebrity. One way to increase the number of people following you is to create unique content that they will find interesting.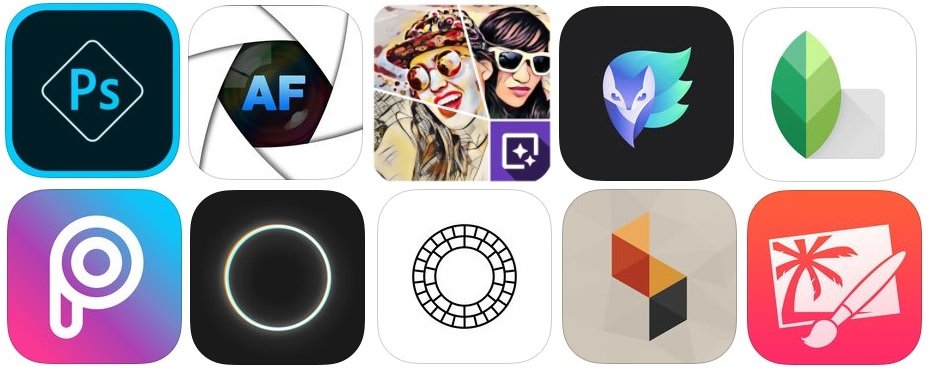 It is important for brands to create content that will resonate with their target audience. This can be done by doing market research and understanding what people are interested in, what they find funny, what they find entertaining, and more. It can be helpful to get free and organic followers on Instagram
you can also edit and post content via PC. I have created a list of apps and software that can help you create content for Instagram growth.
Adobe Photoshop, lightroom, after effects (Windows, Mac)
PicsArt , Pixellab, Pixlr (Android, iOS)
Google Snapseed, Canva (Android, iOS, Pc)
Adobe Photoshop Camera (Android, iOS)
Inshot, Final cut pro & Kinemaster (Android, iOS)
7. Engage with your audience
In order to get followers on Instagram, you need to engage with your audience. You can do this by posting regular content that they will find interesting and relevant. This will encourage them to follow you and look out for your posts in the future.
You should be consistent in your posting schedule so that people know when to expect a new post from you. You can also use hashtags, mention other Instagrammers or brands, and tag people in the photos that you post.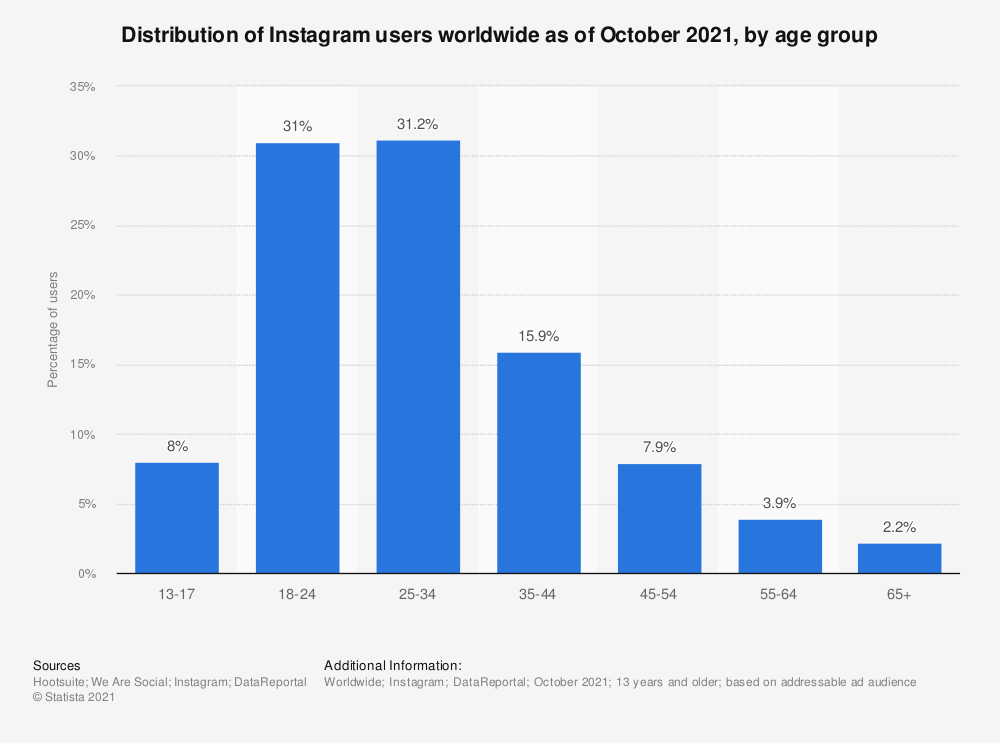 Source: Statista
Engaging with your followers boosts both engagement and follower count which will result in more organic followers. Here are some key points to increase the engagement rate:
Use Instagram story Interactivity features (Polls, Q&A, links, call to action etc.)
Create an AR filter to Intract new user
Try an Instagram live collaboration
Make the most of stories highlights

Pin your best comments
8. Pin your best comments
This is a new way to grow your profile and get more followers. When you pin your best comments, you are showing people that you care enough to take the time to read and comment on their posts. You can pin a maximum of 3 comments in a single post. So always pin the best one to increase interactivity with your followers.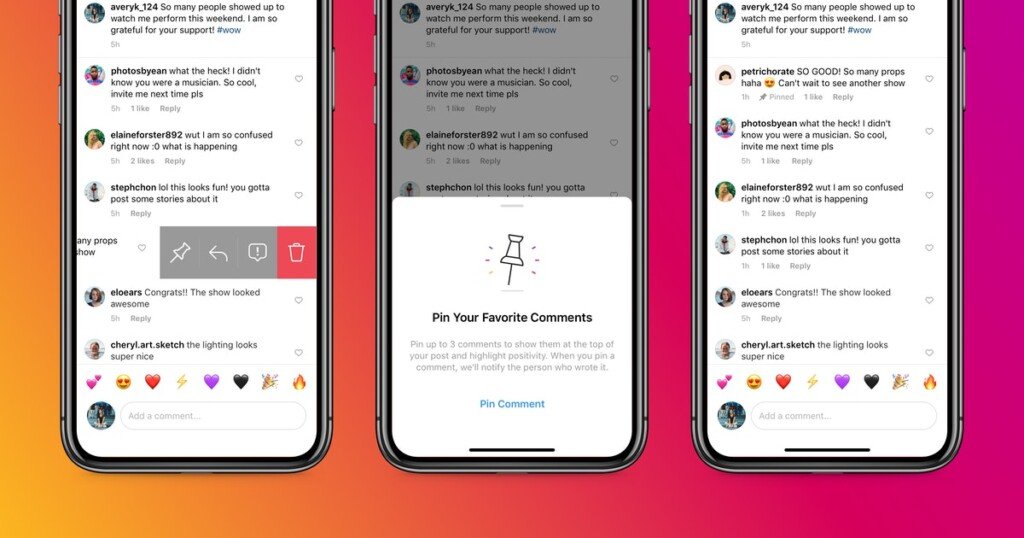 There are many ways in which you can use this strategy, but it's important to remember that this strategy should be used as an addition rather than a replacement for other strategies.
How to pin comments on Instagram to get followers on Instagram:
Go to the comment section of any post
Choose the best comment you want to pin
Tap the three dots at the top right of the comment
Tap "Pin To Profile"
The comment will now be pinned on your Post
9. Use the Instagram nametag QR code
The Instagram Nametag is a new feature to get new Instagram followers. It allows you to create a QR code that can be shared with others on social media. It also gives you the opportunity to promote yourself and your brand at events, conferences, or any other place that has a QR code scanner.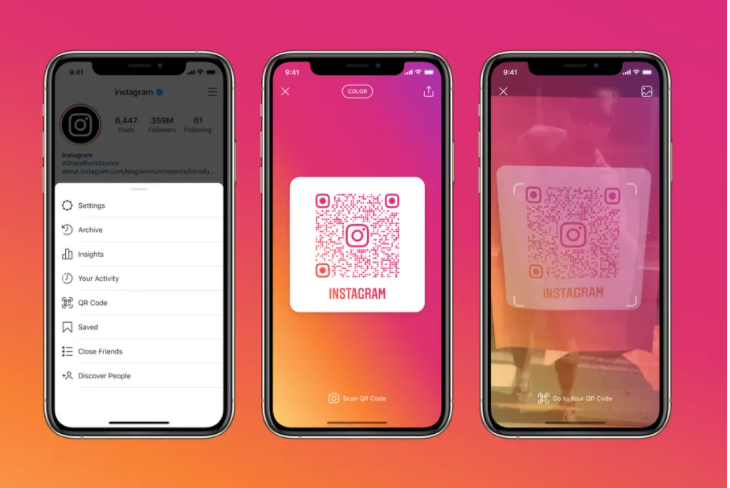 Source: theverge
You can customize your Instagram nametag also. Instagram has 3 different nametag styles Colour, Emoji & Selfie. You can share your nametag with your friends and family by clicking the right top corner. At the bottom of that screen, you can also find an option to scan QR codes to follow others' profiles.
How to use the Instagram nametag QR code to grow your Instagram account.
Tap on the hamburger icon at the top right corner
Tap the QR code option
Click on color button to change the style
Take a screenshot or simply share it
Download it and place it in your physical location
10. Collaborate with others
Collaborating with other Instagrammers is a great way to grow your following. When you collaborate with someone, you'll be able to see their content and vice versa. In simple terms, it is called p4p (a post for post) and s4s (story for story) exchange.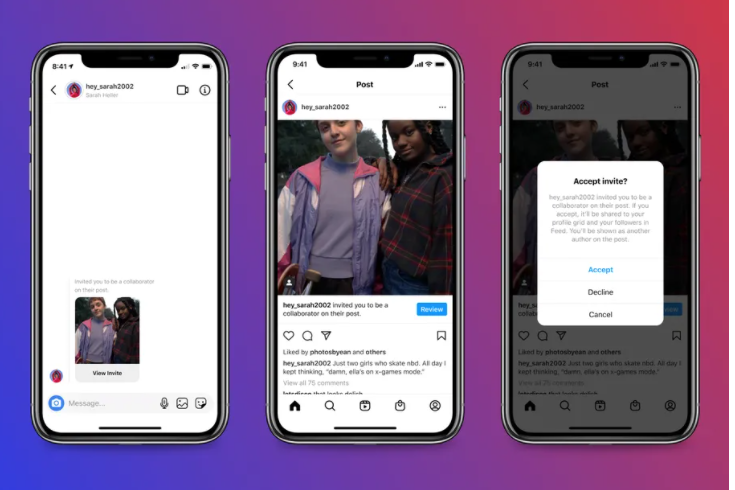 This will also help you build a following of people who are interested in the same things as you. This is because when people see your posts, they might follow your account and then explore what else you post about.
Work with influencers in your niche
Collaborate with other brands
11. Analyze your results
Analyzing your Instagram post results can help you in understanding what kind of content performs well on the platform. This will help you in creating more engaging content that will get more followers on Instagram.
You can analyze several Instagram metrics directly in the app with Instagram Insights or by using any third-party apps. This section will provide you with some tips on how to optimize your account on Instagram in order to grow your profile.
Try testing new hashtags
Analyze after posting different times
Analyze for trends
Do experiments and analyze with different types of image
Analyze your audience (gender, age, region, etc.)
12. Learn how the Instagram algorithm works
Anyone can create an Instagram account and post photos. But how do you grow your account to attract more followers? The answer is simple: use the Instagram algorithm! Instagram is a social media platform that connects users to share photos and videos. The algorithm of Instagram determines which posts are seen by the most people, usually based on popularity.
The Instagram algorithm is the secret to growing your account on Instagram. The algorithm determines what you see in your feed, and if you want more people to see your posts, you need to use the correct hashtags and post at the best times of day.
There are six key points that determine what shows up in each person's timeline: timeliness, interest, relationship, following, frequency and usage.
Timeliness: Your recent Instagram post
Interest: Based on your Instagram activity
Relationship: The accounts people engage with daily
Following: Posts from the accounts you're following.
Frequency: How often do you use the Instagram app?
Usage: How much a user spend their time on Instagram
Frequently Asked Questions on Instagram followers
1. How much time should I spend on Instagram each day?
There is no set number of hours that you should spend on Instagram each day. It all depends on your goals, what you want to achieve, and how much time you can devote to the platform.
2. What is the best time to post on Instagram?
The best time to post on Instagram is when your audience is online. It's important to keep in mind that different countries have different peak hours for social media use. For example, the peak hour for Indian users of Instagram is between 9-11 am, while in the evening the peak hour is between 6-9pm.
3. What is the worst time to post on Instagram?
The worst time to post on Instagram is when people are asleep. This is because people spend most of their time sleeping and the biggest chunk of their time on Instagram. Posting during this time will not get as many likes or comments as you would expect. For example, the worst time for Indian users of Instagram is between 12 – 6 am.
4. How many followers on Instagram to get paid?
There is no clear answer to this question. A lot of factors come into play when we talk about how many followers on Instagram get paid. Some people might say that you can get paid for 1000 followers on Instagram, while others might say 10000 followers on Instagram.
5. What are the best practices for engaging with followers?
The best practices to engage with followers are as follows:
-Be genuine and authentic.
-Provide quality content.
-Keep your followers updated with your latest work.
-Engage in conversations with them by replying to their comments and messages.
Conclusion:
To conclude, Instagram is a social media platform that has a lot of followers. You can get followers on Instagram and get verified on Instagram quickly by following these all tips. You should focus on your content, not just the number of followers. Always post quality content and engage with your followers.
There are many ways to get followers on Instagram, but it all starts with knowing who you are and what you stand for. You need to know how your followers feel about what you have to offer them and how they will benefit from following you.
Should you want to know more? get in touch with our experts and subscribe to us for the weekly newsletter. We'll take it from there.
Now I'd like to hear from you:
Do you have any experience or questions regarding growing Instagram followers for free? Either way, please dive in and leave a comment below.