The Instagram Verified Badge is a new feature on Instagram that aims to provide authenticity of accounts. It's a blue checkmark on the top-right corner of an account, with a message that says "Verified account."
This feature will help users distinguish the original from the fake accounts. Many users get fooled into following these unreal or fake accounts because of their authentic pictures and content. The verification process will help them identify whether it's real or not.
The process of requesting for Instagram verification can be quite confusing, but with this article, we will attempt to explain how the process works.
Requirements for Getting Verified on Instagram
Verified accounts on Instagram are usually reserved for celebrities and famous brands. There are a few requirements that need to be met in order to be granted the coveted blue checkmark by Instagram.
First, you would need to have a public account and also not be currently verified on any other social media platforms like Twitter or Facebook.
Second, your account must have an active profile picture and bio.
Third, you must not currently be in violation of any of the platform's terms of service or community guidelines.
Since these requirements are subject to change at any time without notification, it is best for users to periodically check the list of verified users page on Instagram's website.
How to Apply to Get Verified on Instagram
Instagram has a verification process, with four different levels of verification.
The first level is not verified, level two is verified by email, level three is verified by phone number and finally, the fourth level of verification is exclusive to select individuals.
To apply for verification on Instagram, fill out this form with all the requested information.
1. Go to your profile and tap the Three-line icon in the top right corner. Tap Settings on the new screen.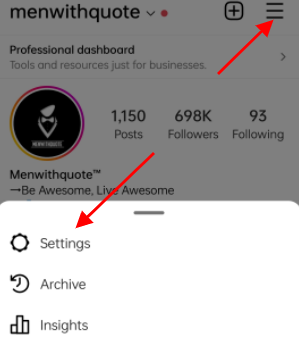 2. Go to the Account option.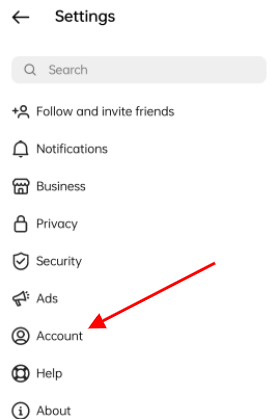 3. Tap on the Request Verification option.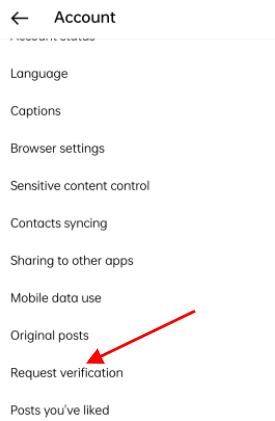 4. Fill the Request verification form. For confirmation of your authenticity, you have to fill in your username & Full legal name. You also need to attach a photo of your official government-issued ID. For individuals, that could be a driver's license or passport. If you have a business, a utility bill, an official business document, or tax filings will do.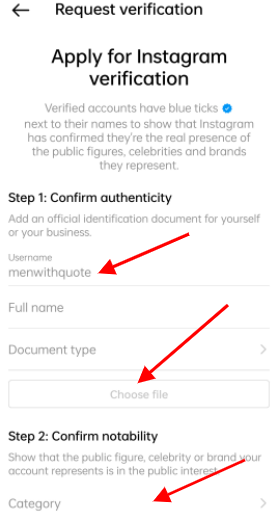 For Confirmation of notability select your category or industry for your account (for example news/media, blogger/influencer, sports, business/brand/organization, etc.), Country or region and audience (optional). Also, put the name "known as" an alternate name of your business or you. (If Applicable)
5. Then you have to fill in the links which are optional if you have. you can add some news articles, social media links, and other links that show your account is in the public interest. Paid or promotional articles won't be considered. All these additional pieces of information will help you to get verified quickly.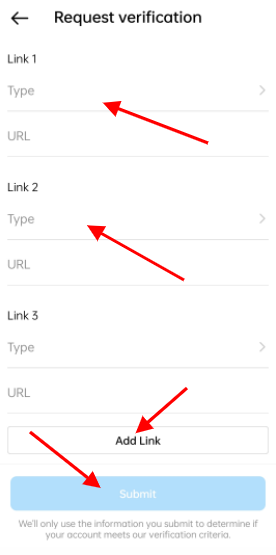 6. After that by clicking on Send at the bottom you can submit your request to Instagram support.
According to Instagram, After you submit your application via email, you'll be notified in your notifications tab. Nothing from Instagram will ever ask for money or personal details. They strive to protect their users from scammers.
Within a few days or a week, you'll receive a direct yes or no. No feedback notification or explanation.
1. If you verified you will get the same notification as shown below:

2. If your verification application got rejected then you got this:

Also Read: How to contact Instagram support
Tips to Get Verified on Instagram
Getting verified on Instagram can be a struggle. You have to pay for a business account, submit an application, and wait for approval. There are ways to help make your probability of getting verified higher.
1. Don't try to buy a Instagram verification badge
Verification is a status on social media that many people see as valuable and prestigious. It's for this reason that many Instagrammers will go to great lengths to get it – even if they have to pay for it.
But don't buy your Instagram verification badge, why? It could be fake and you might get scammed. There are many other ways to promote your page and get ahead of your competition without the expense, and the hassle of waiting for a response from Instagram.
2. Monitor for impostor accounts on Instagram
We should always monitor our account for impostor accounts. This is because they can just copy your profile and interact with your followers as you, which can be dangerous if you have important information to share. Your verified badge helps people know that what they are seeing is real.
Monitoring the account means that we need to have a keen, observant eye that can pick up slight changes in the type of content being posted on their page. Monitoring also includes making a list of any suspicious people who might be following them and posting comments on their posts.
3. Don't Buy Followers Grow Organically
Becoming verified on Instagram is extremely difficult. All of the accounts that are getting verified are celebrities or brands with lots of followers. The best way to grow an audience is by using hashtags, posting quality content, and engaging with other people's posts.
Buying followers on Instagram may seem like a good idea at first. But you have to realize that buying followers is against Instagram's terms. In the case that you are caught, you will be banned from using your account as well as your account will be deleted. So don't panic if your account hasn't been verified yet, just keep posting quality content and it will get verified soon enough.
Also Read: How to back your deleted Instagram account
4. Don't use any suspicious Link In Your Bio
Famous celebrities are no exception. They are often the target of hackers who get into their social media accounts and use it for scams.
Justin Bieber was the victim of a hacker who got access to his Instagram account and posted a link to a fake website in Bieber's bio. The website pretended to be an online store selling Nike products but instead, it redirected users to phishing pages.
The person behind this scam also changed Bieber's profile picture and name on the account. Luckily, he found out about it quickly and managed to regain control of his account before any harm was done.
5. Be Viral on Social Media
The key to growing your following on Instagram is to post regularly and be highly-searched. If you want to be verified on Instagram, then you need to post content that people want to see and that is relevant to them. You can also use hashtags that are relevant and popular for your specific niche.
There are many ways that you can use to increase your visibility on social media and the internet. One way is to post relevant content that will catch people's attention. A second way is to be active on different platforms, like Twitter, Facebook, LinkedIn, or YouTube, which will make more people see your posts. A third way is to make sure that you are using hashtags in some of your posts because this will help people find them more easily.
Also Read: How to get popular on Instagram
6. Apply when You Appear in News Publications
An Instagram verification badge is a huge boon for businesses and individuals.
The verification badge tells Instagram users that the account is authentic, and, in some cases, it can provide greater visibility.
Instagram has not publicly said how it decides who should be verified, but the company often verifies celebrities, high-profile athletes, artists, or brands.
But if you are at the center of a major news event or have recently been mentioned in the media, you can take steps to get verified too.
If your name has been in the news or media – whether this is being covered by major publications or your own blog – then it's worth exploring whether you would qualify for an Instagram verification badge.
7. Be honest to fill your Verification form to get verified
Verification on Instagram is a way of recognizing accounts on the app. Verified accounts are shown with a blue badge and will be distinguished from the rest of the users.
You can get your account verified on Instagram if you provide some basic information like your contact details, your name, and some other personal information. Please fill the form with accurate information in order to get verified on Instagram.
8. Complete Your Instagram Profile to Fast Approval
The blue ticks are not going to start showing up on random accounts. If you want the blue ticks, then it's going to be hard work and patience involved in getting them. You will need to fill out all of the fields on your profile, add a profile photo and add at least 10 posts before you can even think about getting approved for the blue tick from Instagram.
9. Try Again if Applcation Denied
Some people are questioning why some accounts get verified and others don't. According to an Instagram spokesperson, the company is not involved in any verification process whatsoever.
They are simply relying on submissions from users or other third parties to verify accounts. Just follow these all steps and resubmit the form verification badge.
How to stay verified on Instagram
Have you ever wondered how to stay verified on Instagram? It can be difficult to maintain a high level of engagement when your account is not verified. You need a strategy if you want to maintain a high level of followers and likes.
With the recent changes to Instagram's verification process, many users are finding it difficult to stay verified. Here are some tips on how to ensure you're verified on Instagram.
1. Keep Your Account Public
If you want to stay verified on Instagram, you need to keep your account public. When an account is public, it is accessible by anyone on the internet. If you set your account to private or unlisted then your posts will not be available for general viewing.
2. Follow Community Guidelines
To stay verified on Instagram, you need to follow its Community Guidelines. These guidelines are designed to help keep Instagram a safe and inclusive place by providing boundaries and preventing abuse. Follow the guidelines, and keep your account will be verified.
3. Stay Active on Your Account
The Instagram algorithm plays a huge role in how your profile is ranked. This is why it's important to make sure you are following the rules of the platform to stay active on your account and get verified.
Make sure you never delete posts or unfollow users on Instagram. If you do, it can hurt your chances of becoming verified.
Keeping your account active is not only important to stay verified on Instagram, but also for your personal or professional growth.
Alos Read: How to get followers on Instagram
Benefits of Instagram Verification
The benefits of Instagram verification have been a hot topic for a long time now. There are many different opinions about this, but the most popular ones are that people want to show that they have "made it" because their account is verified, or that they want to set themselves apart from other social media users.
It is important to get verified on Instagram because it can help you in three different ways:
You will be able to verify your business and company.
You will be able to identify who you are and what you do with a quick glance.
It will help you in the future when Instagram changes its algorithms.
Who can get verified on Instagram?
If you are an influencer, it is likely that you will want to know who can get verified on Instagram. Accounts with verified badges on Instagram are well-known public figures, celebrities and brands.
There is no clear answer about who can get verified on Instagram. This is because it is something that they change fairly often. One thing that they do tell us in the Instagram help section, though, is that if they authorize your account to be an official "business" account.
Why is it so hard to get verified on Instagram?
There are many reasons why getting verified on Instagram is hard. To start with, there is no clear-cut definition of what constitutes a celebrity. Secondly, it takes time to get to a notable person and profile, and lastly, at the moment the process is not automated.
It can be very difficult for celebrities to get verified on Instagram because there's no clear-cut definition of what it means to be a "celebrity." Celebrities also need tens of thousands of followers before they can even request verification, so they have to wait in line for their turn behind everyone else who wants verification. And the process isn't automated yet either.
Frequently Asked Questons
1. How Long Does it Take Before I Get Approved or Denied Status For an Instagram verification Request?
Typically, you will get an email within 7-10 days confirming your request. If you don't get an email, then it is likely that the verification request has been rejected.
2. Can you get an Instagram verification badge without being famous?

Yes, Anyone can get an Instagram verification badge without being famous. The Instagram verification badge is awarded to accounts that meet certain criteria.
3. Do you need to be a certain level in order to get verified?
No, it is not necessary to be a certain level in order to get verified. Twitter does not require you to be at a certain level in order to get verified.
4. Is there a fee for getting verified on Instagram?
No, there is no fee for getting verified on Instagram. This is a special status that can be granted to a user with a high level of authenticity and relevancy.
5. Can any third party company verify my instagram account?
Instagram verification is a process in which third party companies verify the identity of a user on Instagram. The company reviews the account and posts, and if it meets a set of criteria, they will verify the account with a blue check mark.
The Final Words
The algorithm for Instagram verification is very difficult to break. The requirements are strict and even if you have the followers, the chances of being verified are slim. Getting on the waitlist can be a long, arduous process. It's also possible that Instagram won't let you know whether you're verified or not.
There's a lot of mystery surrounding the verification process on Instagram. It's not 100% clear how you become verified, and many people are looking for ways to get their account verified. For example, some people are willing to buy likes on Instagram in order to get verified, which can be expensive or detrimental to your account if you do it incorrectly.
Should you want to know more? get in touch with our experts and subscribe to us for the weekly newsletter. We'll take it from there.
Now I'd like to hear from you: Do you have any experience or questions regarding Instagram verification? Either way, please dive in and leave a comment below.