Instagram has just 450 employees servicing over 2 billion users. If every user reached Instagram only once a year, that would be still more than 3 million requests per day. Surprisingly Instagram doesn't have an active customer support team.
Instagram has a direct phone number and email address for support. You can also try to contact the Instagram support team through the online Instagram help center. You can also contact Instagram to report a copyright issue ([email protected]) or a hacked account.
Instagram support phone number is (650) 543-4800 and email is [email protected]

Remember that! You will get an automated response, not by humans.
It's difficult to get a human response from Instagram customer support. But there are other ways to get help with problems on the platform. Try to resolve your issue through Instagram help center.
Instagram Support Email:
The official Instagram support email for general enquiry is [email protected]. If you are having a problem with your account or need help with the app, you can contact them at this email address for assistance.
The official Instagram support email address for reporting intellectual property violations on Instagram is [email protected] and [email protected]. You can use this email address to report any content on Instagram that you believe infringes on your intellectual property rights, such as copyrighted photos or videos that have been posted without your permission.
You can also fill this form for intellectual property violations: https://help.instagram.com/contact/437908793443074.
How to Contact Instagram Support through the App
Instagram support is available for both Android and iPhone users. As well as through the desktop website. Here's the whole process to reach out to the Instagram contact team for issues.
Open the app and login into your account.
Tap on bottom right corner of the bottom menu bar and go to your Profile.
Tap on 3 horizonatal line from top right corner.
Select on Settings (gear icon) at the top of the list appear.
Scroll down to and click on help option.
Choose any desired option for your issue either 'Report a Problem' or 'Instagram Help Center'. Then follow the instructions to getting help.
In short, Profile > Settings > Help > Report a Problem.
Instagram Support team will send you a response mail regarding your issue shortly ( Up to 48 hours).
How to Contatct Instagram Support through the Website
You can navigate through most of the same steps as above via your Instagram account on a computer, but the fastest way to get to the Instagram help center is simply by https://help.instagram.com into your navigation bar.
From there, you can search for your answer.
Open

Instagram

website and clickr on your profile icon in the top-right corner of screen.

Select "Settings"(gear icon) from the menu.
Scroll down to the bottom of the page and click "Help." You can go also account center for your issues. (left bottom corner)
Choose your issue on the Instagram help center dashboard and follow the instructions.
You can also directly access the Instagram help center by clicking here. 
To resolve your issues you can also read FAQ on Instagram Help center.
How to Contact Instagram via your Facebook Ads Account Manager
If you are running some ads and spending money on your Insta and FB account. You will be accessed a Facebook Ad Manager account. You can try submitting your problems and questions with them.
You can contact Instagram or Meta support from here: https://www.facebook.com/business/help
After login with your Facebook account. Scroll down to bottom click on "Find answers or contact support" then you'll reach at https://www.facebook.com/business/help/support.
Then you can submit your details regarding contact Instagram support. Then a live agent will contact you within 3 minutes.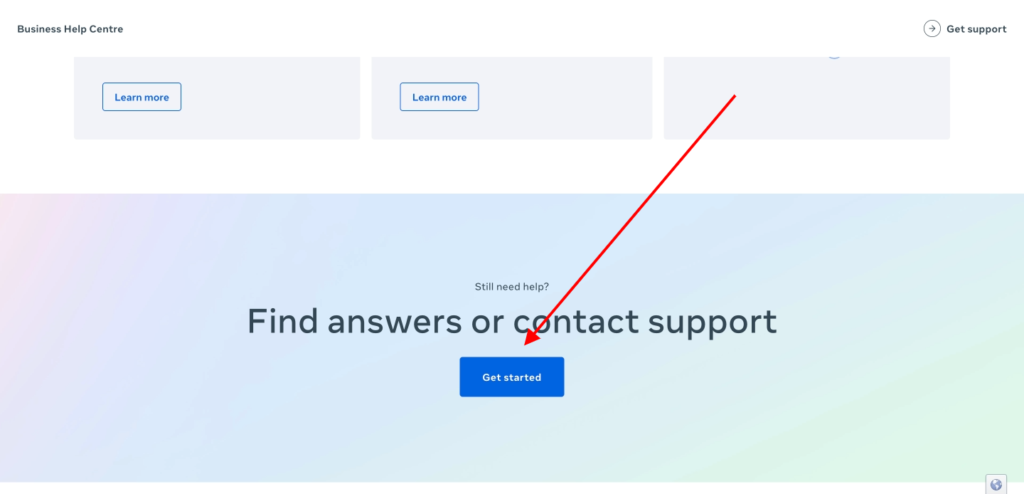 Facebook will reply to you because if you spend on their platform they will probably get back to you quickly to keep you happy (so you spend more).
How to Get help with Instagram Account issues
You can check the following articles to resolve the most common issues on Instagram:
Video: How to Contact Instagram
FAQs: Contact Instagram Support
1. Why I'm not receiving any response back from Instagram?
If your issue is not a high priority for Instagram. Second, they have more than 1 billion users (as per statista) they probably get lots of support tickets which will take time.
Instagram is known for its photo sharing, not its customer support.
2. Where I can find quick help for your Instagram issues?
The quickest way to contact Instagram is via your Facebook Ads Account Manager. You can also try through Instagram's Twitter handle and Facebook page for a quick reply if your luck is with you. 
3. What types of problems can you report to Instagram?
you can contact Instagram for the following issues: hacked, lost, and disabled Accounts, copyright issues, hate accounts, abuse & spam, exploitations, underage children, and more.
4. Instagram Email [email protected] is not working?
If you try to email Instagram, you will get an automated response that says 'You reached us at a channel that we no longer support. Please visit the Instagram Help Center to find answers to many frequently asked questions and up-to-date forms you can use to contact us'. Then you should go to the Instagram help center to resolve your issue.
5. How long does it take to hear back from Instagram support?
It will take 24 to 48 hours but sometimes it takes about one week.

6. What is the Instagram customer support number?
It's 650-543-4800. (Note: automated response, no humans)
7. How Many Employees Does Instagram Have?
The number of employees that work at Instagram is 450, servicing 1 billion monthly users. This is too little compared to the parent company Meta, which has over 58,600 dealing with 2.9 billion users.
Conclusion
Did you contact Insta support? Comment below and tell us how it went. Some readers like commenting on their problems, sometimes another reader might know the answer to your issues.
Should you want to know more? get in touch with our experts and subscribe to us for the weekly newsletter. We'll take it from there.
Now I'd like to hear from you:
Do you have any experience or questions regarding deleting an Instagram account? Either way, please dive in and leave a comment below.