Do you want to create an online presence for your business on Instagram? Increase brand awareness? Get a free sales-driven strategy for Instagram Marketing.
According to the latest data, Instagram has 1 billion monthly active users globally. With over 180 million users from INDIA logging in and 500 million people are actively using Instagram daily globally.
Instagram is an awesome opportunity for you as a retailer to connect with your customers and sell products that are infiníte! There are more than 200 million business accounts around the world that users visit every day.
Here are some marketing strategy for Instagram to take your brand or small business to the next level:
1. Instagram Reels
Instagram Reels is a new way to increase your brand appearance around the world. Reels lets users create and share short clip content like TikTok. Now In Reels, Users can create or record and edit 60-second videos, add any music and effects, and then publish the clip either with your audience or, if you have a public account, Explore page can viral your reels with the larger Instagram community.
Some Ideas to create great reels:
Put together videos you already have. If you already have videos on your products and services. Or if you have customer testimonials you can collect them together to create testimonials Reel to positive branding of your business!
Use overlay text in your Reel. Reels have a feature where you are able to overlay text in your video. You can use some apps or tools to make an detailed reel about your product or service.
Create short, personalized videos. Since Reels are only 15 seconds long, you can create a quick selfie Reel of yourself to share a tip with your audience or your thoughts on a trending topic.
Show off your products in a fun way. With all the features Reels has to offer, you can get fun and creative on how you showcase your products.
Accounts to follow for inspiration: Business Accounts, Influencer, Travel, and General Accounts, Food Accounts, & Just For Fun Accounts.
1. Use Hashtags
Instagram users are now able to follow specific hashtags, along with profiles, meaning that they can keep tabs on relevant conversations by Using hashtags alone.
The ability add hashtags into posts adds a new element to your strategic considerations. Now, you can reach new audiences by using targeted hashtags and expand your brand messaging by promoting your branded tags.
Previous data and studies showed that fewer is better, while Instagram also says that you should use 3 to 5 perfect relative hashtags to reach a larger audience.
But now, According to Later "Posts using 20 highly relevant hashtags receive the highest average reach rate rather than 30 hashtags. As you can see in the chart.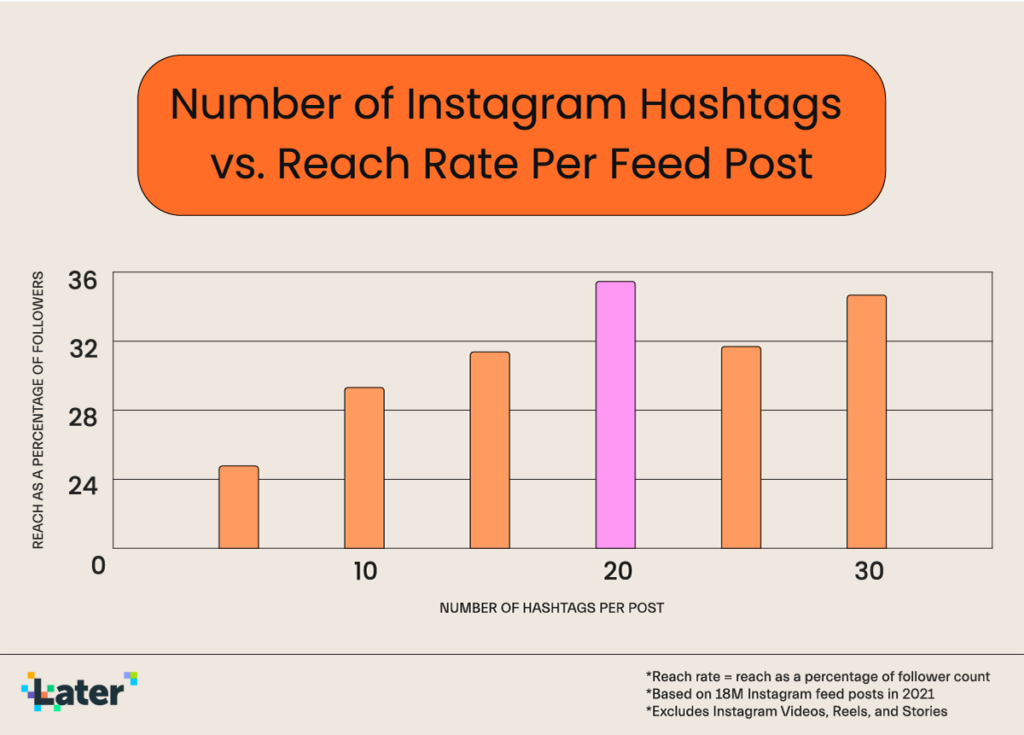 Effectively Instagram posts that use hashtags gain 12.6% more engagement as compared to those that don't. So it really is worth to creating some hashtag strategy for your business if you want to grow your account or brand!
What do Hashtags actually do?
Make your content easier to find.
Encourage audience interactions.
Improve your engagement rate.
Build a community around your business.
Additional Tip: Research and create 18-20 industry-specific hashtags Run a hashtag specific to your brand name Use hashtags specific to every day of the week: #MondayMotivation #TravelTuesday #WisdomWednesday #ThrowbackThursday #FeatureFriday #SaturdayNight #StartupSunday
2. Using Stories
Instagram Stories has also grown at a rapid pace, doubling its audience from 250 million daily users in June 2017, to 500 million in January 2019.
Additionally, Instagram upped the value of Stories in December by adding long-time story and Highlights functions. Now Stories content is kept indefinitely for a maximum of 3 days and can be displayed in a new section on their profile, maximizing their use.
Instagram Stories ads are an awesome way to grow your brand, business, and products to an already engaged audience. In fact. 75% of Instagram users visit the brand's website or make a purchase, after looking at Instagram ads.
What can you share there?
Offers, deals, and promos.
Share user-generated content.
Behind-the-scenes stories
Special announcements.
Additional Tip: Focus on user-generated content. User-Generated Content is when users of a particular brand share its content with or without encouragement from the brand itself.
UGC is 50% more trusted and useful than other content.
user-generated content is 35% more memorable than other content.
3. Visually Plan Your Instagram Feed
Having a clear visual strategy is key to your brand growth! Focus on creative, imaginative images, and on great composition, this will help boost your Instagram performance, likely more than anything else.
While it's tempting to focus on newer tools like Stories and effects, keeping a consistent, visual approach in mind is key to optimal success.
If you're looking to convert your viewers into followers, putting some time aside to plan your Instagram feed in advance is a good idea.
Share images that enhance your visual presence: Types of content to share on Instagram:
Company values and beliefs
Photos of product, employees, and work culture
The perspective of company employees
Photos of people using your product
Other user-generated content
Videos and Instagram stories
How do you maintain consistency?
Choose the aesthetic of your Instagram profile.
Find content for your feed aesthetic.
Use similar filters to keep it consistent
Additional Tip: Apply filters to your images before Publishing. Filtered pictures are 21% more likely to be viewed and 45% more likely to be commented on than normal unfiltered ones.
Related: The Best Times to Post on Social Media [Infographic]
4. Instagram Live
Instagram's live feature has late evolved, and they've continued to add new features and update to make it more appealing. One recent update has been the addition of their 'Live Rooms' option, which enables you to go live with up to three people.
That added exposure provides new promotional opportunities, while the ability to have guests on your live brodcast can also help ease the broadcasting process.
Instagram live lets you connect with your audience in a direct, transparent, and authentic way. It is an incredible option on Instagram for gaining new followers, engagement, and even selling products.
How does this help?
Help followers tune into and engage with your brand.
Helps in brand recognition.
More relatable and personal experience.
6. Profile Theme
Instagram profile theme means the post or contents you post on your feed or profile should be cover the same niche and topics. Contents should be created on the same color code and with the same fonts to look professional.
Command attention with a big idea and a theme
Persuade your audience to do some actions.
Have a consistent theme.
Ensure a consistent color scheme.
7. Run promotion campaigns and contest
Hosting an Instagram giveaway is not only awesome for your followers, but it can also help you easily increase your:
Likes & comments
Email subscribers
Blog readers
Website visitors
Social media followers
8. Maintain posting time
Here we have the most traffic and engagement times on Instagram, and overall you have to avoid posting on Sunday because it has the lowest user interaction out of the week.
Various studies suggest the following best times to post on Instagram globally during the week: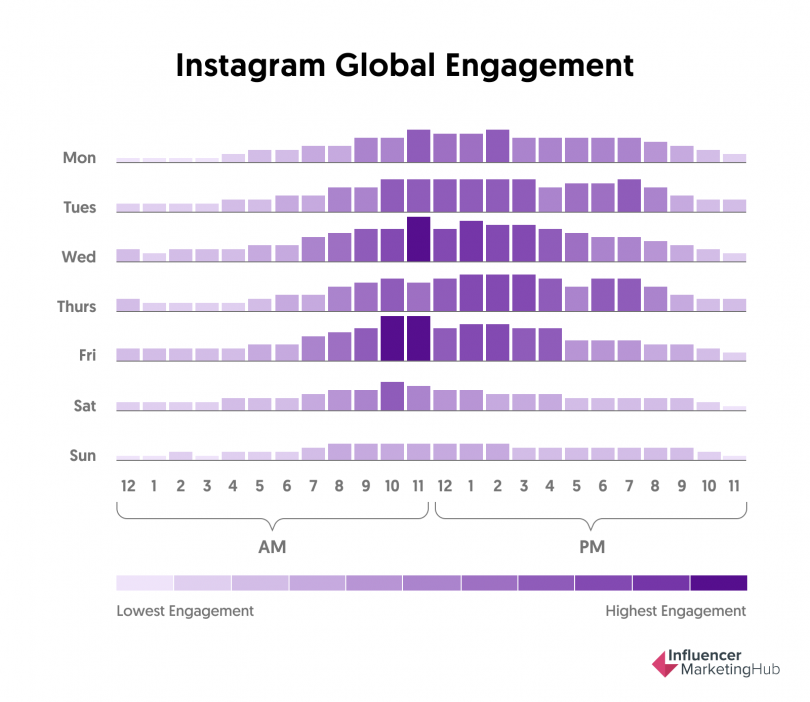 Best day to post on Instagram: Friday
Best time to post to Instagram:
9 AM – 2 PM on Friday
11 AM on Wednesdays
1 PM – 3 PM on Thrusday
Some More related studies: Hubspot, Sproutsocial, Later, influencermarketinghub.
Related: The Best Times to Post on Social Media [Infographic]
Key Statistics:
The country with the most audience on Instagram, is in India 180 million, Then in the United States 170 million and Brazil 110 million. (Daily Active Users)
29% of the world's population almost 4.8 billion active internet users regularly use Instagram.
26.3% of the world's population almost 5.27 billion active mobile phone users uses Instagram.
30.94% of the world's population 4.48 billion active social media users uses Instagram regularly.
17.54% of the world's population or 7.9 billion population uses Instagram monthly.
Instagram's monthly user is the same as the combined population of Europe and North America.
In february 2013 Instagram had 100 million monthly active users.
In june 2016 Instagram got 500 million monthly active users.
june 2018 Instagram reached 1 billion monthly active users.
49.2% of all Instagram users are male while 50.8% are female.
528 million Instagram users are male and 546 million are female.
320 million Instagram users globally which are aged between 18 and 24 years.
55+ million likes is a photo of an egg is the most liked photo on Instagram.
29 minutes is the average time spent on Instagram in a day.
Sources: (Facebook) (Statista) (Mention) (Worldometers) (WordPopulationReview) (eMarketer) (Backlinko)
Conclusion
These tidbits of advice should get you off to a running start on Instagram.
Remember that Instagram's social nature works to increase the more intangible aspects of marketing. Such as buyer loyalty. brand equity, and lifetime user value.
Happy Instagramming! 😊
Should you want to know more? get in touch with our experts and subscribe to us for the weekly newsletter. We'll take it from there.
Now I'd like to hear from you:
What else would you like to see added to this article? Or have a question?
Either way, please dive in and leave a comment below.