Do you want to use same WhatsApp account on two phones?
The Linked Devices feature on WhatsApp was introduced last year but you could only use it on your computer or web browser. However, The update allows users to use the same phone number on two different devices, a long-awaited feature for many. Here's a brief on how it works.
WhatsApp Linked Device Feature
WhatsApp has rolled out a new feature called Linked Devices, which replaces the previous WhatsApp Web feature. With this new capability, you can now link up to 4 devices to your WhatsApp account. This means that you can access WhatsApp on any of the linked devices without needing to have your smartphone with you.
The Linked Devices feature was previously limited to use on a computer or through a browser on another phone, making it inconvenient for those seeking to use the same WhatsApp number on two phones. However, the latest app update has solved this issue, making it possible to use the feature without limitations.
Supported Device: WhatApp on Two Phones
As of now, the dual-device feature for WhatsApp is restricted to Android devices only. This means that the secondary phone you want to connect must be an Android device, while the primary phone can be an iPhone.
It is necessary to have the newest version of WhatsApp installed on your Android device to access this feature. The feature is in its beta phase and is being gradually released to all users, so if you haven't received it yet, please wait for the update.
How to Use same Whatsapp Account on Two Phones without WhatsApp Web
It goes without saying that two phones are required for this process to function. Once you have both phones in your possession, simply follow the steps outlined below.
Install and log into WhatsApp on your main phone. If you already have WhatsApp Installed and logged-in, left this step.
To install WhatsApp on your secondary device, go to the Play Store and download the app. If it is already installed, uninstall it and then reinstall it.
Open WhatsApp on your second phone and choose your preferred language.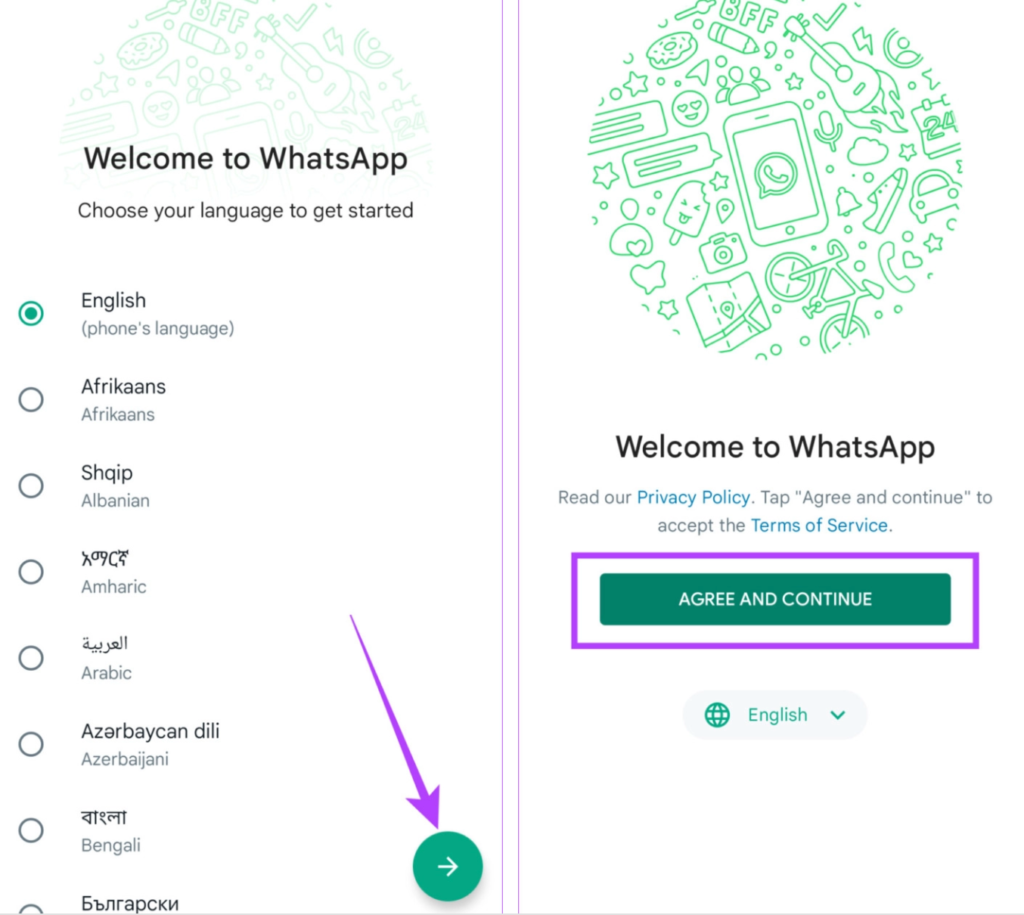 Click on 'Agree and Continue'
Tap the three dots in the upper right corner of the screen and press them when prompted to input your phone number. Then select 'Link a device'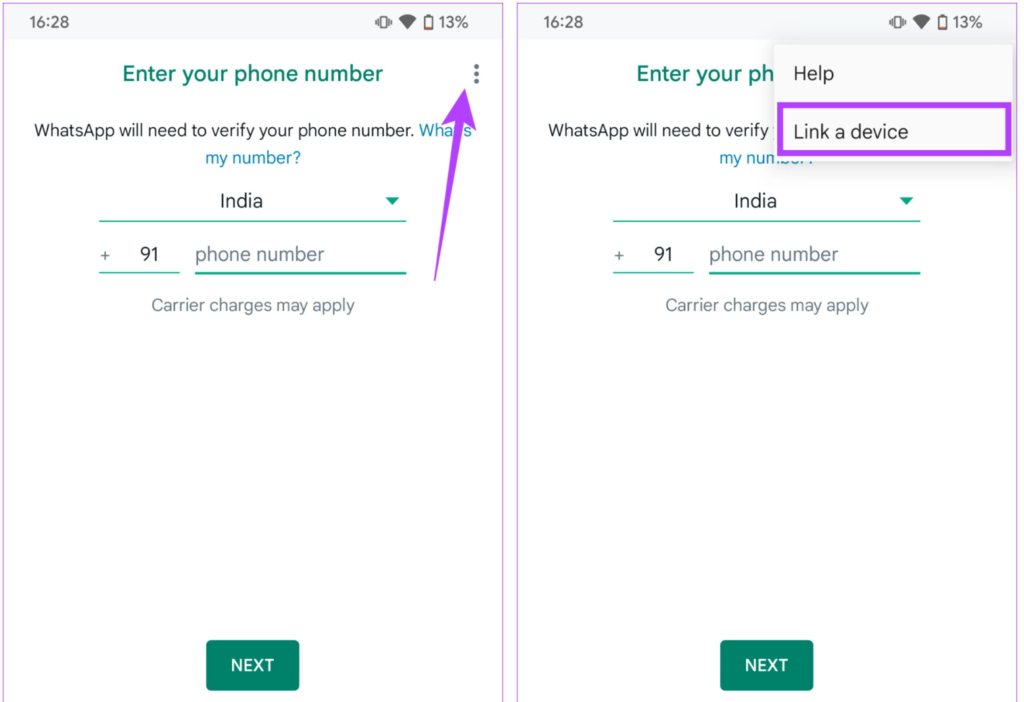 If the "Link a device" option is not visible, install the WhatsApp Beta APK on your device using the provided link and try again.
A QR code will appear on the screen of your phone. On your primary device, scan this code to proceed.
Open WhatsApp on your primary device. Tap on the three-dot icon in the top-right corner.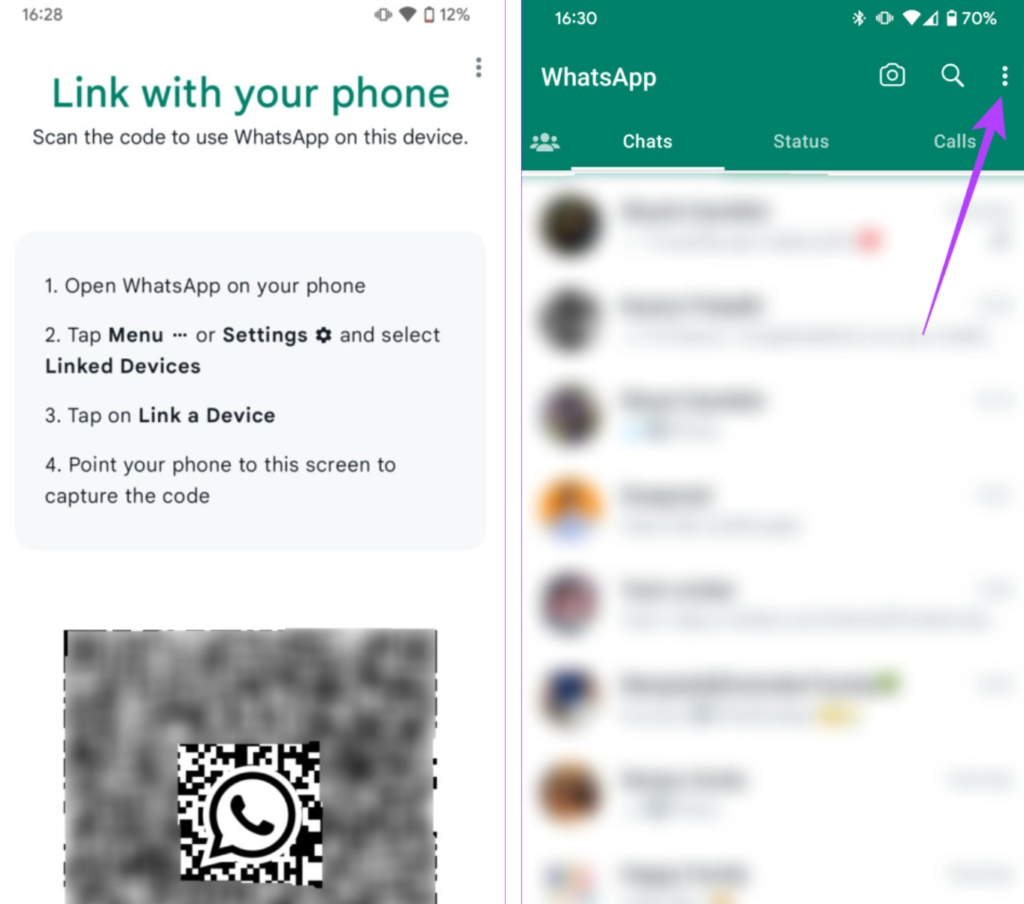 Choose Linked Devices. Then move on to 'Link a New Device.'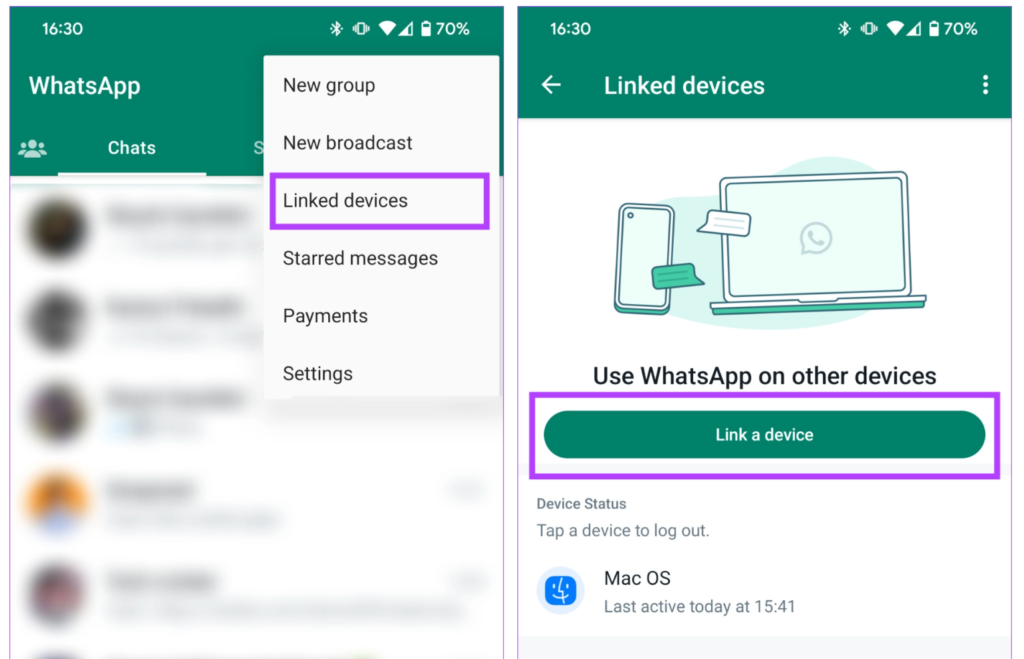 A QR Code Scanner will display on your screen. Use it to scan the QR Code on your secondary phone.
Your account has now been successfully linked on both devices through WhatsApp.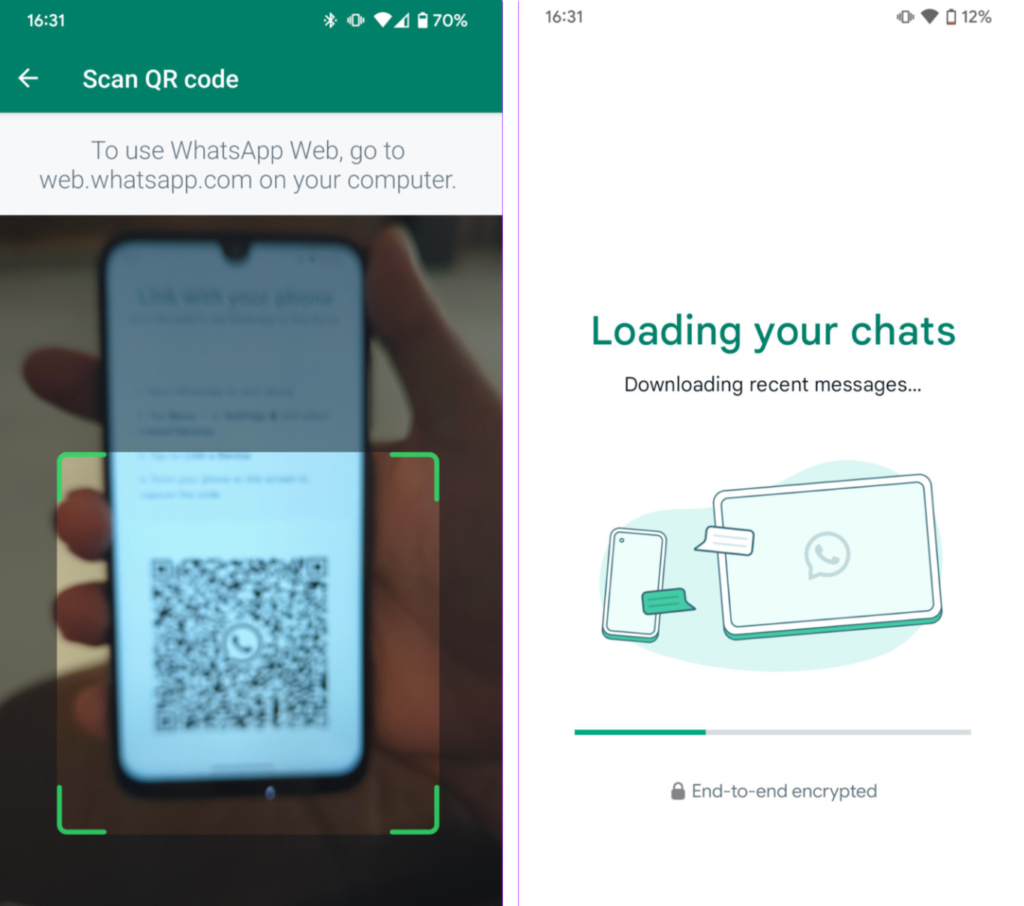 The advantage of this setup is that each device runs WhatsApp independently. So, even if your main phone is offline, you can still use WhatsApp on your secondary device as long as it has an active internet connection.
How to Use same Whatsapp Account on Two Phones with WhatsApp Web
An easy solution to use WhatsApp on two phones simultaneously is by utilizing WhatsApp Web. Although this method won't allow you to run the WhatsApp app on both phones, it enables you to access the same account on different devices through a web browser.
Here's the steps:
Open a browser on your secondary phone and navigate to web.whatsapp.com
Locate the Settings (Android – three dots on the top right, iPhone – three dots on the bottom right) and select Desktop site/Request desktop site.
A page with a QR code should load. If you're redirected to the WhatsApp desktop homepage, simply click "WhatsApp Web" at the top left.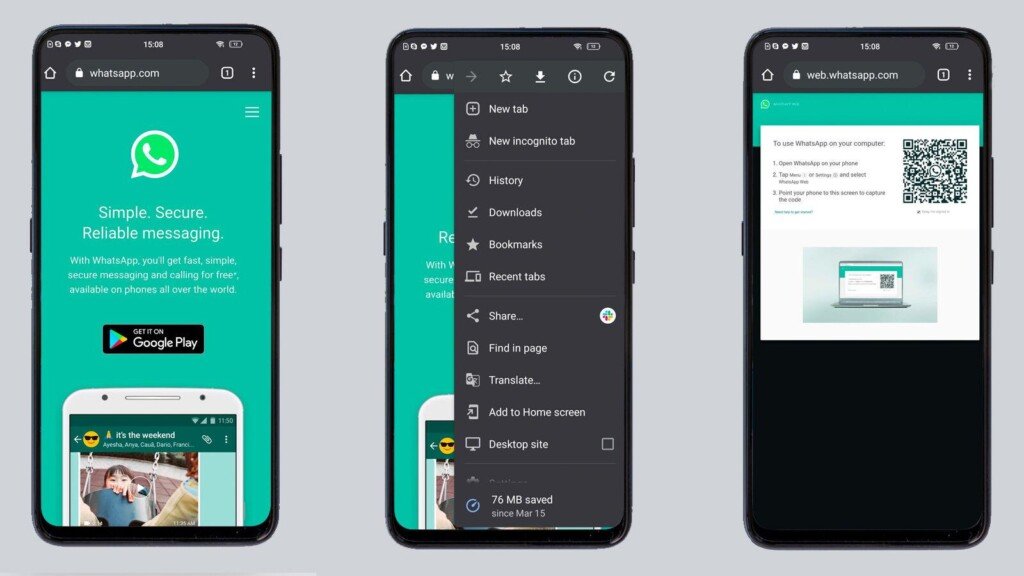 Open the WhatsApp app on your primary phone and navigate to Settings > WhatsApp Web > Link Device.
Then, scan the QR code displayed on your secondary phone to connect the two devices.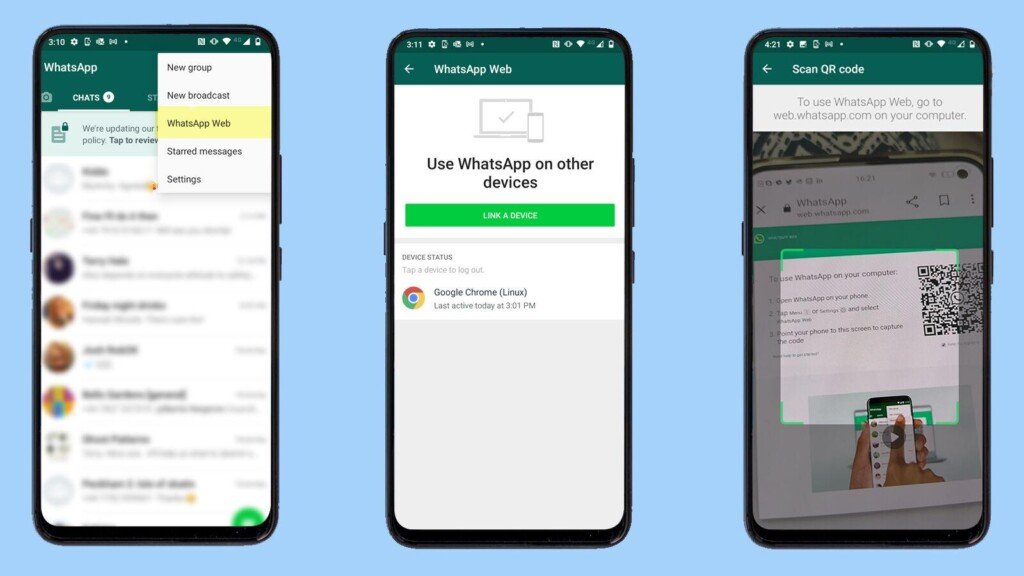 With the linking process complete, you can now use WhatsApp on both of your phones.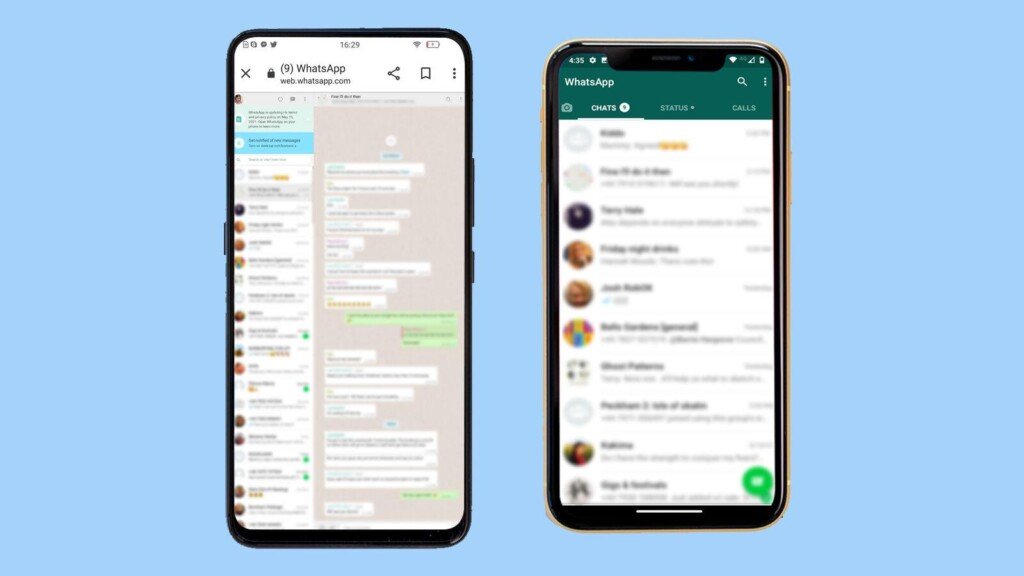 Video: Use Same WhatsApp Account on Two Phones
FAQs: Use Same WhatsApp Account on Two Phones
Use the Same WhatsApp Number on Two Different Phones
WhatsApp has finally delivered on the long-awaited feature of using the same account on multiple devices. Users can now add their WhatsApp account to a secondary device and enjoy the convenience of using it on two phones simultaneously. Global users have been eagerly anticipating this rollout for years, and it's now finally here!
What do you think about to use Same WhatsApp Account on Two Phones? Should other apps introduce similar measures? Let us know in the comments section below.