In 2023 social media become an essential part of our life. Social media is one of the most popular online activities. We all are surrounded by social media apps and sites. In this article, I will show you the 15 most popular social media sites and apps one by one.
Maybe you know the top three or even the top five social media sites and apps, but do you know what's happening behind them? I create a list of the top 15 most popular social media sites and apps worldwide. New social media sites are coming and going, but these have stood the test of time. I will update this list of social media sites with new data as it becomes available.
Let's jump in.
Fun Fact: Tech giant company Meta owns four of the top six ranked social media sites and apps (Facebook, WhatsApp, Messenger, and Instagram).
Top Social Media Sites By Monthly Active Users
Here's the graphical data of the top most popular social media sites in the world. As you can see from the below data, Facebook is the leading social media site with the most active users with a huge margin in front of Youtube. Then there is another big gap between YouTube and WhatsApp in the third position.
NEW: Instagram now has over 2 billion users in May 2022. That is the answer to the question, what will be the next big thing.
Here is the most recent list of monthly active users for the top social media sites. If you want the numbers look down.
| Platform | Monthly Active users |
| --- | --- |
| Facebook | 2.853 billion |
| YouTube | 2.562 billion |
| WhatsApp | 2.0 billion |
| Instagram | 1.487 billion |
| FB Messenger | 1.3 billion |
| WeChat | 1.263 billion |
| TikTok | 1.0 million |
| QQ | 574 million |
| Douyin | 600 million |
| Telegram | 550 million |
| Sina Weibo | 530 million |
| Snapchat | 514 million |
| Kuaishou | 481 million |
| Pinterest | 478 million |
| Reddit | 430 million |
| Twitter | 397 million |
| Quora | 300 million |
Most popular social media sites – Source: (Statista)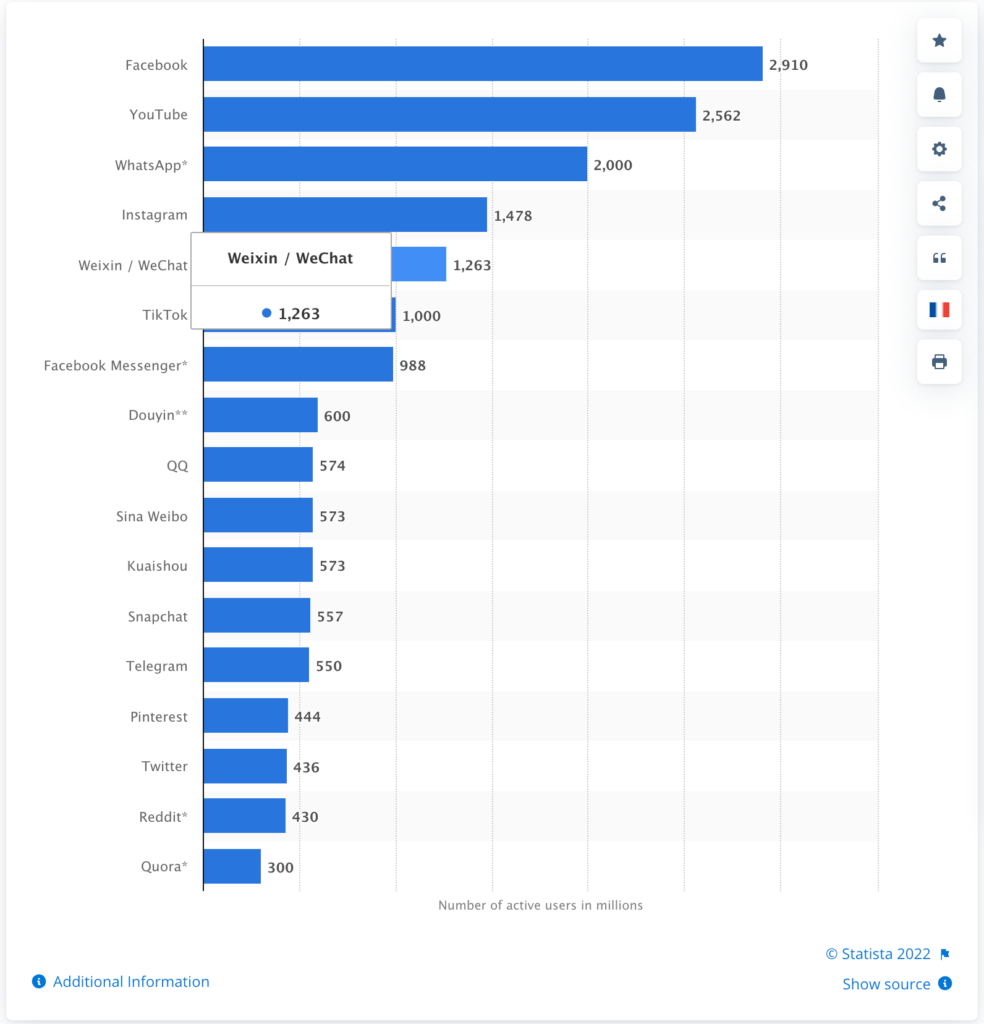 The data in this list combines global and US social media visitors. The actual numbers of monthly visitors are gathered from different sites. I bring you the latest data out there.
Take a look at the visual size comparison below.
Facebook updated its monthly active user numbers to 2.83 billion in September.
Youtube measures logged-in users and is getting closer and closer to Facebook with 2.291 billion.
Twitter reported 397 million active monthly users in its last quarterly report. Twitter also managed to post its first-ever quarterly profit.
Reddit adds users and displays 430 million users on their website.
Facebook jumped millions of monthly active users from 2.13 billion in June 2021 to 2.83 billion as of October 2021. The rate of growth seems to continue at 15 million active users per month. So, by the end of the year, we should see 3 billion Facebook monthly active users.
I'm a strong believer these social media trends will keep up and growth will be at a similar pace for the next few years.
Today Facebook has crossed 2,800,000,000 monthly active users. That's 2,8 billion people on one platform.
Most Popular Social Networks Worldwide in 2023
With the growing popularity of mobile, social media is also growing in monthly active users. I created a list of 10 leading social media apps globally. These apps are in fierce competition with the main social sites already!
In most popular apps list of 2023 Meta owns top 3 of the top 10 ranked social media apps globally.
| | |
| --- | --- |
| Social Networking App | Monthly Active Users |
| WhatsApp (owned by Meta) | 1,600,000,000 |
| Messenger (owned by Meta) | 1,300,000,000 |
| Instagram (owned by Meta) | 1,300,000,000 |
| WeChat | 1,200,000,000 |
| QQ Chat | 783,000,000 |
| QZone | 652,000,000 |
| Viber | 249,000,000 |
| LINE | 218,000,000 |
| Snapchat | 538,000,000 |
| YY | 122,000,000 |
Most popular social media by number of active users – Source: (Statista)
The picture here is a bit different if we look at the brand names. WhatsApp and Messenger are in a close race for the top spot. But both of these most popular social media apps are owned by Meta so the competition may not be as fierce as between completely separate companies. Then there are a lot of Asian apps and then on the sixth spot is Instagram, again owned by Meta.
WhatsApp added another 200 million monthly active users reaching 1.5 billion. Facebook Messenger promptly added another 1.3 million users and now they are behind WhatsApp with 1.3 billion monthly active users. Both of these mobile platforms are owned by Meta.
WeChat took the 3rd position as it passed QQ and Instagram with more than 189 million monthly active users as QQ continues to slide.
Social networking apps are going to grow even bigger as people adopt them into their everyday lives. Here I have listed the mobile-first social media platforms. But the Facebook mobile app would dominate this list with 2.89 billion monthly active users. As smartphones' adoption continues, the share of the desktop use of social media platforms will fall.
Visual size comparison
Again, on this graph you can see the three large circles dominating the rest. Only Twitter and Reddit battling it out for the fourth space seem to come close to the top 3. However, in Russia VK has a huge penetration, dominating the Russian speaking world as Facebook does globally.
World Map of Social Networks
Take a look at the visualization showing the most popular social networks around the world. The world map of social networks 2017 is based on recent traffic data (January 2017).
And wait, I have news for you! There is some indication that a new social network might take the to spot. YouTube might be taking over Facebook in unique monthly visitors:
YouTube – 2 – Compete Rank | 2 – Alexa Rank
Facebook – 3 – Compete Rank | 3 – Alexa Rank
Youtube has added 300 million people to its logged-in audience in less than a year. I believe this trend to continue and Youtube might reach 2 billion people within the next 10 months.
Are you looking to use social media to make money?