If you are a regular user of Instagram, you may ever be experienced about Instagram Action Blocked problem. So if you are searching for how to remove action blocked on Instagram and the reasons behind why it comes. Let's dive in.
Read your short guide to learn how to fix and avoid action blocked on Instagram.
Types of Action blocks on Instagram
1. Temporary action block
This one is usually the most common and expires itself from several hours to 24 hours. When your account got punished by Instagram because you violate Instagram community guidelines, a Temporary action block appeared on Instagram.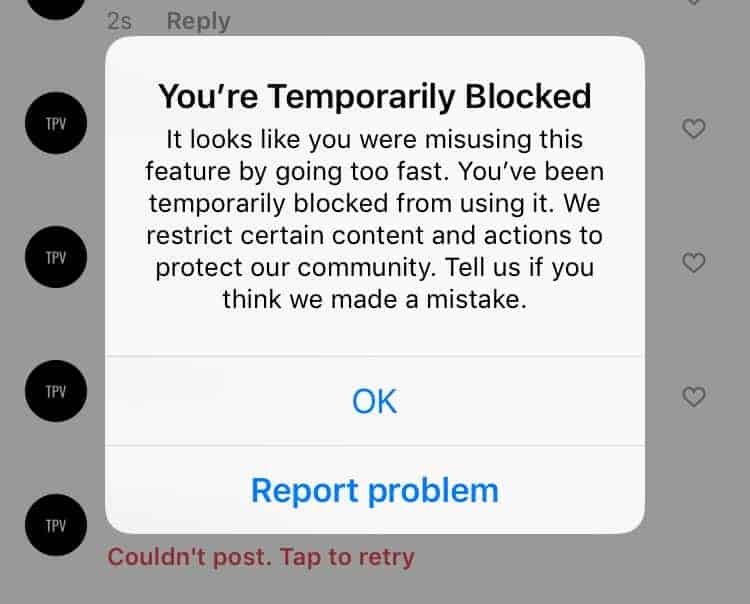 2. Instagram action block with an expiration date
This type of action blocked on Instagram has the time duration saying when exactly it's going to expire. It can usually take from 24 hours to 30 days to expire.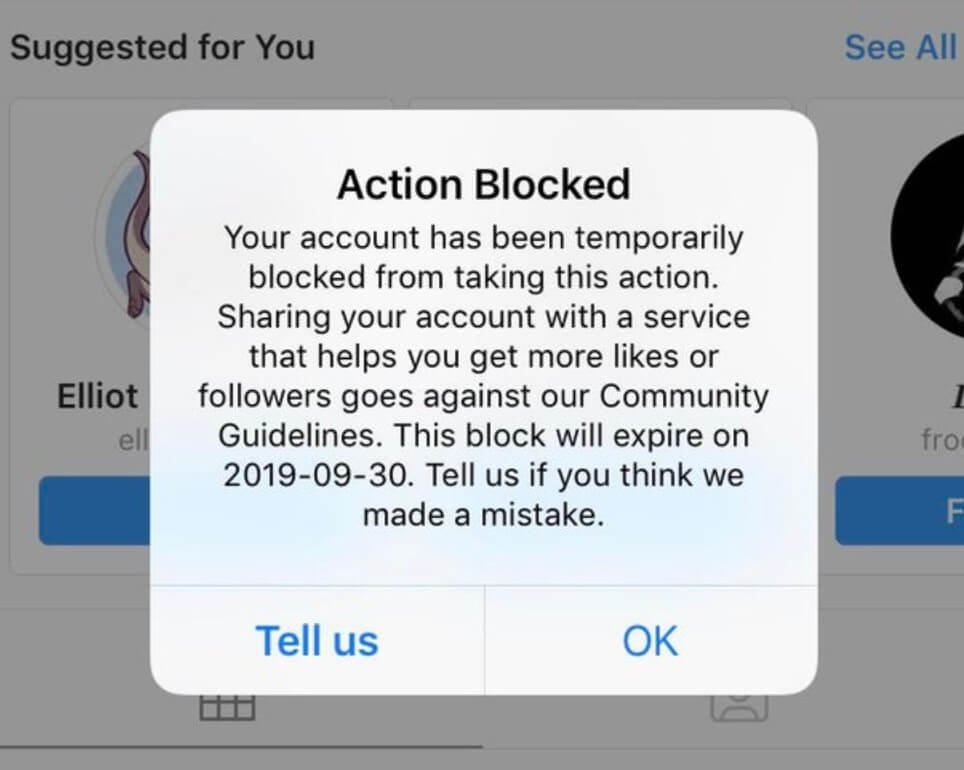 3. Instagram action block without an expiration date
This one is usually the worst and most annoying action block on Instagram. Since it doesn't have an expiration date and can last from several hours to two weeks. This block has a "Report problem" button, so if you're sure that Instagram made any mistake. You can submit a manual review by going to Instagram Settings > Help >Report a Problem.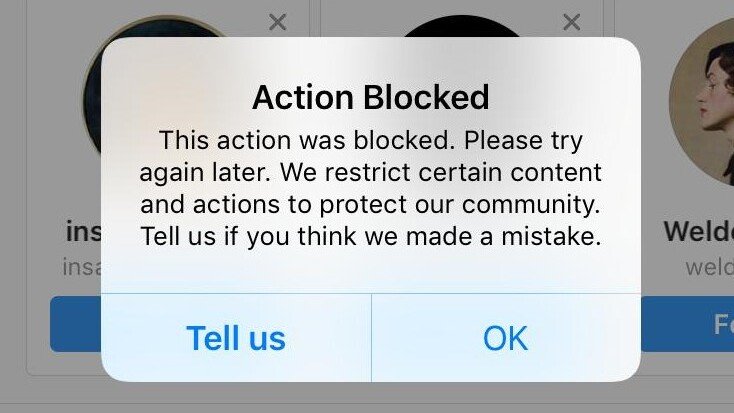 4. Permanent Instagram action block
If you got this action blocked on Instagram you can't remove it because your account has been disabled permanently. If your account has been blocked several times or if other users report your profile, you also are at risk of deleting your account permanently.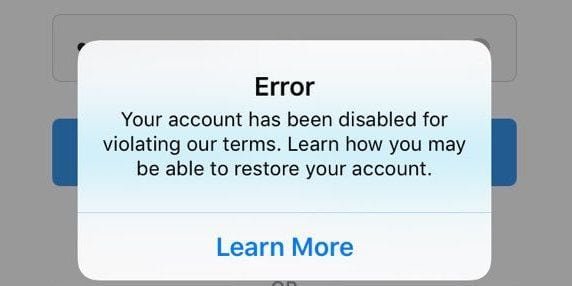 Related: How to Restore Your banned Account
What Trigger action blocked on Instagram
Every Account has its own health score by the number of valid actions. Once you cross the allowed limit of the day or hours, you will be action blocked on Instagram.
Instagram action blocked occur in many cases like; If your account is doing a spamming activity (i.e. posting useless info, bothering other users, or even creating fake accounts). Instagram will even ban your accounts that look like spammers.
After banning you can not perform actions like 'following' 'commenting', 'liking'. So the Sigma rule here is to avoid doing too many activities to gain more new followers and sending too many DMS.
The worst part is that there is no way to find out the exact reason behind banning your account. Instagram neither warns the user nor explains the reasons to its users. They can also delete your account without even informing you. But now you can submit a review request by going Settings > Account > Account Status.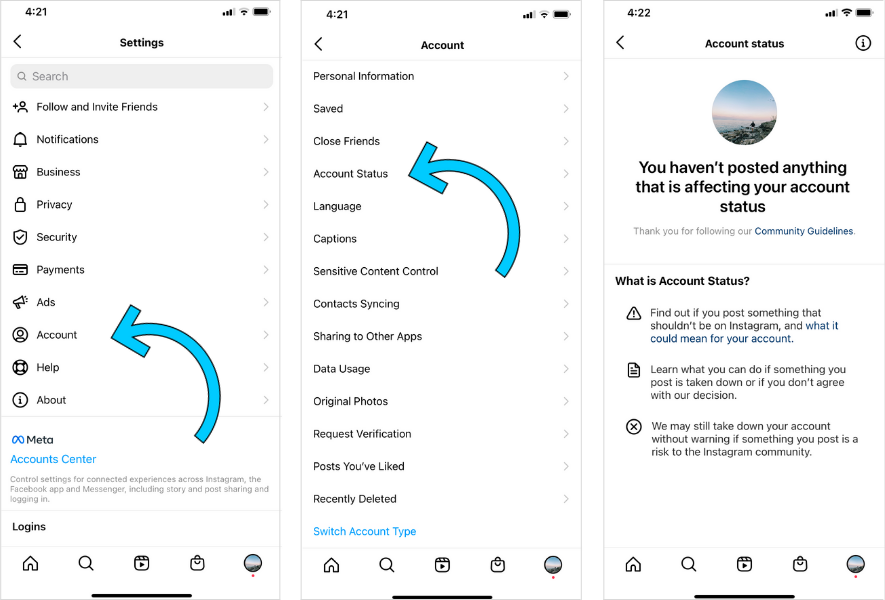 First, let's have look at the reasons why your actions are blocked on Instagram. Reading all the reasons that trigger Instagram action block will help you fix them easily.
Factors to leads Instagram action block
Doing spam activity
Getting too many previous violations
Using of 3rd party apps and tools
Exceed the Instagram daily action limits
Putting hashtags in the comments instead of the caption
Posting sexual, Inappropriate contents
Logging in from a different IP address and device
User reports and Copyright Infringement
Excessive and frequent posts
Account authority or Account health score

You are slightly active on Instagram at all

Havn't enough posts in your Instagram account
Incomplete bio and account's info
Using the same comment multiple times
Posting Repetitive content
By not following Instagram rules is another major reason for being Insatgram action blocked. Read Instagram Guideline to be sure that your activities are not against their rules.
Related: Report Copyright Infringement
Tips to Fix Instagram Action Blocked
I'm sharing here all the ways to remove Instagram action block. These worked with 90% success rate in solving the action block problem on Instagram. This means that 9 out of 10 users with the action block problem will be able to fix it if they try all of these methods.
1. Change Your Account Paasword
This is a primary and essential method to fix an action blocked on Instagram. Every user should try this first if they are action blocked by Instagram. It's the simplest method for all.
All you have to do just change your Instagram password. You have to go to Setting> Security> Password. because I saw many users unblocked their action block by changing their Instagram account passwords.
2. Switch Your Mobile Data
It's a very simple method to do if Instagram has blocked your action, it may be the case that Instagram has blocked your IP address and not your account. The first trick or method is you should change your mobile data connection or you can take Wi-Fi also.
3. Remove All #Hashtags from Your Recent Posts
Instagram has some broken #hashtags that are restricted or blocked. Such hashtags are typically prohibited because they seem inappropriate or they are used as spam. so Instagram blocked or banned those #hashtags either permanently or temporarily. You can also Instantly check for banned or flagged Instagram hashtags using this tool.
Remove all #hashtags from your recent 10 Instagram posts minimum. A lot of people including me have analyzed that trick. which worked for me and this seems to be the fastest way to fix Instagram Action Blocked.
4. Link Your Instagram Account with other Social Networking Sites
When Instagram has blocked your action. All you have to do is link your Instagram account with other social networking sites. This trick will let Instagram about that you are a real person and not some bot. So this will help you to remove Instagram action blocked from your account.
All you need to do is just go to settings> account> linked accounts. By clicking on it you can easily connect your Instagram account with other social networking sites.
5. Complete Your Instagram Profile
If your account is new and you are action blocked on Instagram. The first thing you have to do is complete your Instagram profile. Upload a profile picture, add a proper bio, email address, and phone number. Also, as mentioned above, link other social networks to your Instagram account.
This will help you to know Instagram about that your profile is real or authentic. otherwise, Instagram's algorithm may consider your account as a fake account and block it. this is also a very simple way to unblock action blocked on your Instagram account as soon as possible.
6. Turn on Two-Factor Authentication
The best thing you can do to ensure you've removed all access is to enable Two-Factor Authentication. Many users don't have any idea about this, but when you turn on two-factor authentication, you will essentially let Instagram know that you are not using any third-party applications and tools for any type of automation.
You can increase your account health score by doing this. This can also help you to fix action blocked. but if not, it will definitely help avoid another action block in the future.
7. Rewrite Your Bio and Remove Link in Bio
If you are action blocked in Instagram make sure you rewrite your BIO and remove the link from your BIO if you have one. This worked for me for my menwithquote's account, it's easy and there's no reason not to try it. In the previous point, I've mentioned that a link in BIO increases your chances to get the action block on Insatgram and decreases your action limit.
8. Delete All 3rd Party Apps and Tools
I have already mentioned many times, that you should use your Instagram account manually. Delete all 3rd party applications and tools and access your Instagram account and change your Instagram password.
Using scheduling apps and tools for your account can cause an Instagram action block. that's why advise you should avoid 3rd party scheduling apps, and that you should use Instagram's human-oriented tools for automation.
9. Reinstall Your Instagram App
Delete the Instagram app and install it again. After that, the cookies and other cached data collected by Instagram should be removed, which is helpful in getting rid of the action block, especially the temporary one. We heard from one of our followers and he got success to unblocked action blocked for their account.
10. Send a Report to Instagram
If you feel you have done nothing to pop up an action block on Instagram. Then you need to submit a request about it. Send an honest report to Instagram's support team, detailing everything about an action block.
Primarily, when the "Instagram action blocked" error pops up, it usually has two options: Tell us and Ignore. To request a manual review by Instagram, tap the Tell us button. But some types of error pop-ups have no other option but OK. In this case, you can go to Settings>Help>Report A Problem and Explain your difficulties to Instagram, and hit the send button. After sending it, then you need to wait for a period of time to get a response.
A review will be carried out by the IG support team and if you're found innocent, then your account can be unblocked immediately. It is important to read about Instagram guidelines and act accordingly before you take this type of action.
11. spend some money on ads
If you have some money, spend some money on ads to promote your Instagram posts. This has fixed action blocks for us in several cases to get higher engagement and reach on the post. that accounts who spend some money on ads (even as little as 5$) have higher action limits which should also help you avoid another action block on Instagram in the future.
12. Don't do any kind of activity on Instagram for at least 48 hours
Rome was not worked in a day and neither your account will be unblocked in a day. this only works, if you are lucky. Don't do any kind of activity on Instagram for at least 48 hours.
But, in most cases, you need to be patient. It could take anything from 4 hours to 4 weeks to restore your Instagram account.
What If This Doesn't Work
If none of these methods worked for you to fix Instagram action blocked then unfortunately you will have to wait it out. As I have mentioned sometimes an action block message comes with the expiration date and sometimes it doesn't.
Instagram Action blocks usually last from 12 to 48 hours, but sometimes they can last for up to two weeks. If that's the case and you don't want to wait that long, you can start growing another account while you're waiting to get unblocked.
Don't forget to check triggers for action blocks on your Instagram account. if you have not already, and if you have another device I would advise you to start the new account on that device using mobile data.
Frequently Asked Questions
1. How long is action blocked on Instagram?
It's usually which type of action block you have. An Instagram action block is temporary, not permanent. It can last from 24 hours to over a week. In most cases, It removes within 48 hours or after following certain steps (about which you can read in this article).
2. Can I post if my account is action blocked on Instagram?
You're not able to like, comment, follow/unfollow, and post any photos. It's all depends on which type of action block you got (about which you can read in this article).
3. Why am I getting tried again later on Instagram?
The 'Try Again Later' error is triggered when your actions are against the Instagram community guidelines.
4. Does Instagram warn me before blocking action?
Instagram does not give any notification or warning before blocking actions on your profile.
5. Why Instagram Showing 'we restrict certain activity Instagram'?
Instagram blocks your actions from certain activities if they are detected as spamming activity. Like too much liking, commenting, following, and DMs. There is no need to worry since the problem will go away after a few minutes on its own accord.
Conclusion
Right now, unfortunately, there's nothing else you can do, but since I've seen a lot of people complaining about action blocks on their personal accounts where they actually have done nothing wrong, I'm sure Instagram will take it a bit easier in the future because they are really starting to get their users angry, which is just bad for business.
Should you want to know more? get in touch with our experts and subscribe to us for the weekly newsletter. We'll take it from there.
Now I'd like to hear from you:
What else would you like to see added to this article? Or have a question?
Either way, please dive in and leave a comment below.