A few weeks ago, Instagram came up with guidelines on how to create quality Reels on its platform. The company clearly disliked how creators just reused existing content from other social media platforms like TikTok.
With people recycling their TikTok videos, Instagram felt like it should take some steps to solve the problem. Even though the company still allows users to post TikTok videos, they won't appear on the feed.
So, if an influencer wants to reach more audience, he/she will have to post some original content. It has also tweaked the algorithm and will now downrank the videos created using TikTok.
See point 2 – 'Do share original content created in the Reels camera'
Well, clearly that note was too subtle for some, as today, Instagram has issued some new Reels advice, which includes a more explicit warning on re-posts.
Yes, Instagram is not only now clearly advising against posting content that's 'visibly recycled from other apps', but it has also updated its algorithm to downrank such posts within the Reels tab and Explore. 
Instagram can easily detect TikTok videos since they have a watermark on them.
Why is Instagram changing the algorithm?
"We're building on what we've learned from Explore to recommend fun and entertaining videos in places like the Reels tab and personalize the experience. We are getting better at using ranking signals that help us predict whether people will find a reel entertaining and whether we should recommend it."
Instagram explained, in a statement to The Verge
The company has also said that videos made using third party apps are generally of low quality. This, in turn, results in low engagement and a bad user experience.
If you are looking to maximize your Reels clips, here's what Instagram does recommend: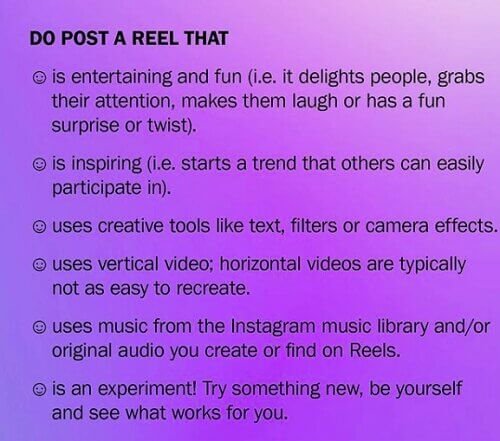 Looking at Instagram's new policy, it is quite clear that they want to promote third-party apps on the platform. They have also working on new tools that will help creators make better videos.
Also Read: 21 Instagram Facts for 2021 [Infographic]
The recent changes will motivate creators to work on new and original content, and solve existing issues pertaining to video quality.
All-in-all, this makes it harder for people who want to post on both Instagram and Tiktok, since they will have to record the same video twice.